In celebration of the second year anniversary,Albion Online is releasing a week-long Fame Boost, for all players plus free gifts for all players, and have just released the Official Albion Online Soundtrack across numerous digital platforms.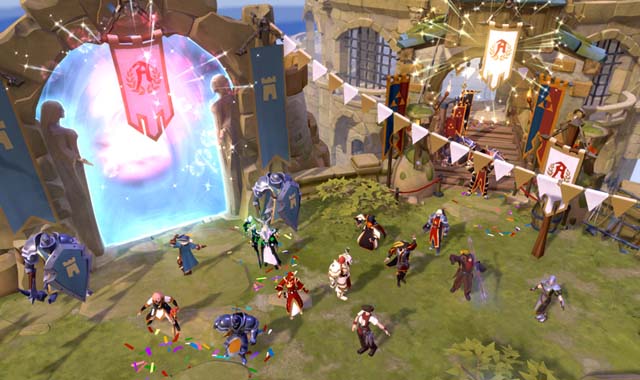 The Fame Boost runs until July 24, and grants an extra 25% Fame for all open-world activities.
Here are all the details:
• Duration: July 17 10:00 UTC (after maintenance ends) to July 24 10:00 UTC
• Does NOT affect Fame earned through Tomes of Insight
• Does NOT affect the rate at which Challenge Points are earned
To spread the celebratory mood, free special gifts will be sent out during the event. They include the Anniversary Banner - a festive new furniture item - and three different colors of fireworks.
Here's how to get your free gifts:
• Items are automatically sent to all players with accounts created prior to July 17.
• In addition to having a previously-created account, players must log in between July 17 10:00 UTC and July 24 10:00 UTC to trigger the reward. (It can then be claimed any time after that.)
• To claim, click the gear icon at the upper right, and select "Claim Rewards".
The Albion Online Soundtrack, is now available on all major digital platforms, and you can listen to the game's 22 award-winning tracks whenever and wherever you want. The 22 powerful, evocative songs that make up Albion Online's soundtrack were composed by Jonne Valtonen and recorded by the FILMharmonic Orchestra in that city's stunning Rudolfinum in 2017.
In addition, players can also listen the whole soundtrack on the Albion Online YouTube Channel. You can listen to individual tracks or the full playlist. You can check the video below for Albion Online Full OST Playlist.
For more information on the Fame Boost and ingame anniversary celebrations, check
here
.
Stay tuned to
5mmo.com
, a professional online in-game currency store for
Cheap Albion Online Gold
.