EA's "FIFA 20" will launch multiple versions as before, and the company has released the cover star of FIFA 20 Standard Edition/Champion Edition/Ultimate Edition. EA Sports FIFA announced on official Twitter that
Eden Hazard will appear on the cover of the game's standard edition, while Virgil Van Dijk appears on the cover of the game's Champion Edition, Zinedine Zidane is the cover star of Ultimate Edition.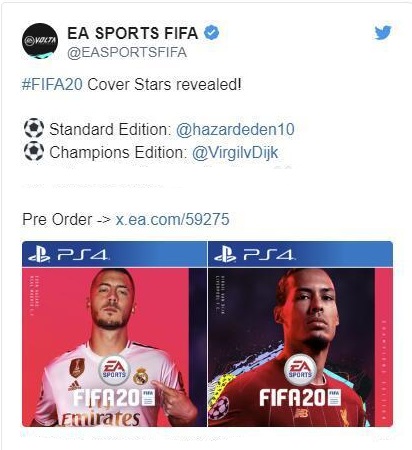 Hazard is the second consecutive player to appear on the FIFA cover shortly after changing teams. Cristiano Ronaldo left Real Madrid after a decade with the club in July 2018 and was then featured on the cover of FIFA 19 two months after. Hazard is now appearing on the FIFA cover with Real Madrid after eight years with Chelsea. Hazard is a Belgian football player with a front-court or winger who currently plays for La Liga club Real Madrid and is the captain of the Belgian national football team.
Virgil Van Dijk is a Dutch professional football player. He is a central defender. He played for the Celtics team and is currently playing for the Premier League team Liverpool. He is currently the captain of the Dutch national football team.
EA Sports has yet to announce an official release date for the FIFA 20 demo but fans can expect news in the coming weeks, ahead of a likely release in the week of 9 September. The game itself is out on 27 September, although fans purchasing the Ultimate and Champions Editions will gain access on 24 September, with prices ranging from £53.99 to £89.99.
Zidane will have a FIFA Ultimate Icon card on the new game, joining legends Andrea Pirlo, Didier Drogba, Ian Wright, and Ronald Koeman as the latest inductees into the in-game FIFA Icons team. Zidane is the most requested icon to date, and his last appearance on the game was on FIFA 06, the year that the midfielder was famously sent off for France in the 2006 World Cup final defeat after he headbutted Italian defender Marco Materazzi in the chest.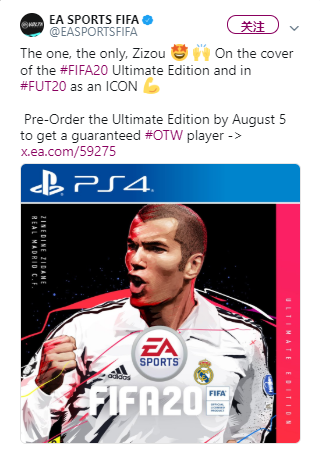 In addition, EA also officially announced that Zidane will join the core UT mode of FIFA 20. Considering the individual's brilliant achievements in football, Zidane's game value will be quite scary. And the price of ultimate edition is $99.99, if you are interested in, you can make pre-order, and receive some bonus.