As is known, FIFA 21 offers you a Dual Entitlement - meaning that you won't need to buy FIFA 21 twice to upgrade your copy of the game from PlayStation 4 to PlayStation 5, or Xbox One to Xbox Series X. Discless consoles require a digital entitlement to upgrade. But not all your FIFA 21 progress transfers from current-gen to next gen. Many players may be curious about it and want to know the reason. Recently, EA has offered an explanation for it.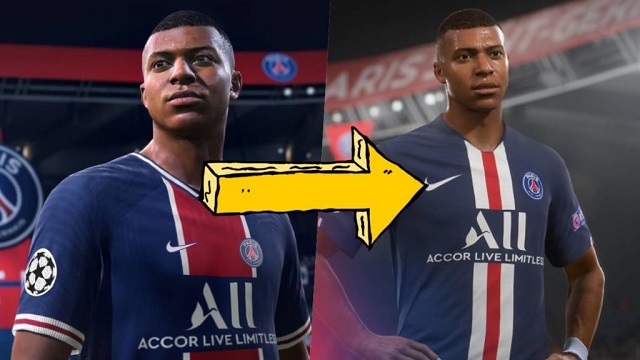 Dual Entitlement offers free next-gen upgrades. This is good news, of course, given some publishers are not offering a free next-gen upgrade. However, it's worth noting that not all your FIFA 21 progress will transfer from current-gen to next-gen.
All progress you make or content you acquire within FIFA 21 Ultimate Team, including players, items, coins, FIFA Points, match record and leaderboard placement, as well as all progression in Volta (the FIFA Street-style mode) will transfer from PS4 to PS5 and back, or from Xbox One to Xbox Series X and back.
But, progress within all other modes, including Online Seasons, Co-Op Seasons, Career Mode, and Pro Clubs, is specific to the console you are playing on and won't transfer between consoles. This is obviously bad news to FIFA 21 players who focus on, for example, Career Mode. It means those who upgrade to next-gen will have no choice but to start over - that's quite the decision if you've pumped tens of hours into a career or Pro Clubs.
So, what's going on? FIFA executive producer Aaron McHardy issued a statement on the matter, insisting the development team decided "the time required to make all modes transferable was better used to build new features and improvements across the entire game".
Here's the statement in full:
"When we start developing for a new generation of consoles, there's ultimately some trade-offs we need to make. So we decided that the time required to make all modes transferable was better used to build new features and improvements across the entire game, along with addressing feedback from our players. Since both Volta and FUT are server-based modes it made sense for us to focus on them as a way for players to carry over their progression."
As Tom Phillips noted in his story on the matter, the difference between Playgrounds data (which is stored on a server) and personal game progress may be a clue as to what's going on. It seems there is some kind of limitation on what PS4 data can be accessed by a PS5 version - although one Sony can work around itself to offer save transfers on Spider-Man: Miles Morales. Really, only Sony can answer.
FIFA's FUT and Volta are server-based modes, as McHardy pointed out, so the situation with FIFA 21 on PlayStation does follow Dirt 5's lead, at least. But with FIFA 21, we have this game progress issue on Xbox, too, which is odd considering Microsoft's consoles have easy cross-save functionality via Smart Delivery - a program EA isn't using for some reason. Let's remember, following the news about PlayStation's progress transfer issue, Microsoft took the opportunity to get in a little pop on social media.
McHardy's statement suggests there is a time and resources issue in having progress transfer between console generations on both PlayStation and Xbox, and it is not as simple as flipping a switch. Whatever the case, FIFA 21 fans should know what they're getting in for before they buy a copy of the game.
Above is everything we know about FIFA 21 Progress Transferring. If there is something fresh, we will show it up at our site 5mmo.com. FIFA 21 has landed. Don't you want to have a try? To enhance your adventure, you are highly recommended to buy
FIFA 21 coins Comfort Trade
at
5mmo.com
as it will always play an essential role in Ultimate Team. Buy FIFA 21 Coins online is a good option which has been accepted for most FIFA Players in previous versions, which will save you a lot time and have more fun in game. As a leading game store in FIFA market, 5mmo.com is dedicated to providing the top- quality FIFA 21 Coins with the most reasonable prices ,fast delivery, security guarantee, convenient order track system and 24/7 customer service. What's more, overwhelming stock FIFA 21 Ultimate Team Coins on sale for all platforms is available. Now, buy FIFA 21 Coins PS4, PC, Switch and Xbox One with the cheapest price here! Any doubt, please feel free to contact us!