Genshin Impact's Mobile Revenue Exceeded $1 billion, and Zhongli's Revenue Exceeded $15.5 million on the first day of launch
On March 23, local time, the latest analysis report released by Sensor Tower showed that in less than 6 months after the official release on September 28, 2020, the mobile end of the miHoYo open world game "Genshin Impact" spent more than $1 billion on mobile players (About RMB 6.506 billion).
"Genshin Impact" has created US$874 million (approximately RMB 5.687 billion) in revenue in just 5 months on the App Store and Google Play. Since December last year, the average monthly consumption of players has remained at around 160 million U.S. dollars (about 1.041 billion yuan).
In the past 30 days, "Genshin Impact" ranked third in revenue on the App Store and Google Play platforms, second only to Tencent's "PUBG Mobile" and "King of Glory."
Sensor Tower said that outside of China, this popular game by miHoYo has always been the best-selling mobile game. In the past 30 days, the world has gained more than 129 million US dollars (approximately 839 million yuan) in revenue.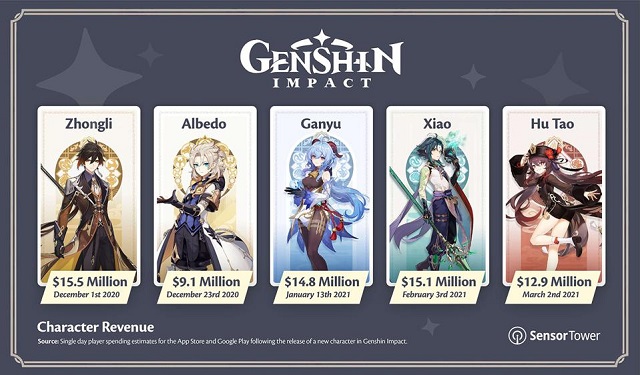 Sensor Tower also has an interesting graphic you can see above where it tracks spending on the day of launch for the last six characters the game has released, so we can see who was the most and least popular. The list goes:
1. Zhongli
- $15.5 million
2. Xiao
- $15.1 million
3. Ganyu
– $14.8 million
4. Klee
- $14.5 million
5. Hu Tao
- $12.9 million
6. Childe
- $9.8 million
7. Albedo
- $9.1 million
The title has been a huge global hit, ranking as the No. 3 revenue generating mobile game globally across the App Store and Google Play in the period following its launch. It sits behind Honor of Kings and PUBG Mobile from Tencent, which have both grossed more than $1 billion during the past five months, and above blockbusters Pokémon GO from Niantic and Roblox from Roblox Corporation. That makes Genshin Impact the top earning mobile RPG worldwide, and so far it has brought in an average of approximately $175 million in player spending per month. The game is also available on other platforms including PC and PlayStation 4.
It is worth mentioning that "Genshin Impact" is the fastest game to break the $1 billion mark on the App Store and Google Play, and it took less than 6 months. This is faster than Niantic's "Pokémon Go" (9 months) and NCSoft's "Lineage M" (10 months).
Genshin Impact launched on September 28, 2020 and quickly became the biggest new game IP launch for a Chinese company to date. Last month, the president of its creator miHoYo, Cai Haoyu, said that the title cost $100 million to make, but will have a development budget of double this for every year it's still going. Given that it's made at least $1 billion to date, the firm can afford at least another five years.
Have you ever try this exciting gameplay? If yes, then you will know the importance of characters.
Buy Cheap Genshin Impact 5-Star Characters
at 5mmo.com, we always know how to enhance your gaming experience!