GTA Online Arena War Update Is Live Now and Here's Everything You Should Know before You Get Hands on It
With the latest GTA Online December update,
Arena War
is out now, featuring
7 new game modes, 12 new vehicles and a Arena Workshop.
Additionally, logging in from December 11 to December 17 will net you
two free in-game shirts
, and you'll be eligible for
discounts on various weapons and armor
. Here's further details of the Arena War, so keep on reading.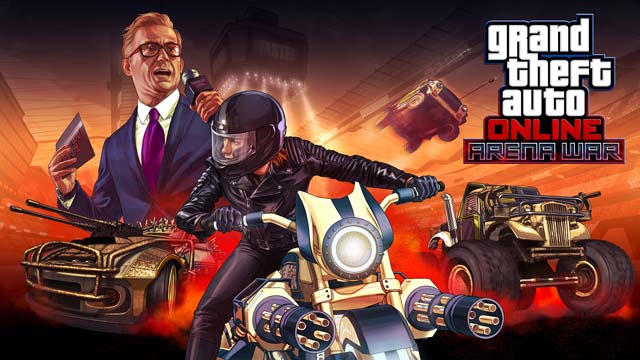 The latest update is called "Arena War", which aims at adding a competitive mode that sounds very intense. Here' s the official description of what Arena War might look like:
"Enter Arena War, where ruthless gladiatorial combat meets the bleeding-edge of vehicular modification technology in one spectacular--and highly combustible--competition," reads a line from Rockstar's official description.
The event will take place inside the Maze Bank Arena, apparently, and it will see players fighting until the grisly end, apparently. "Sign up and embark on an entirely new career under the stratospheric dome of the Maze Bank Arena, one that involves turning your opponent's brains into pulp on the steering wheel in the name of entertainment, courtesy of Alan Jerome Productions," reads another line from the description. Stop envying others, you have the opportunity to be 1 position in GTA 5 Online Mode too, all you need is:
Cheap GTA 5 Money
- where you can enjoy a 3% discount using the code "
5MMO
".
Seven New Modes
First, the latest update features the addition of seven new modes based on combat. The seven new modes are called Carnage (vehicle deathmatch), Flag War (capture the flag), Wreck It (a trap-heavy racing mode), Tag Team (tag in and out of the fight with another player), Games Masters (one team hits checkpoints while their opponents control hazards to stop them), Here Come the Monsters (survival mode against an opposing team of monster trucks) and Hot Bomb (sounds filthy, but you pass the bomb by crashing into other players).
Arena Workshop
The update also adds the Arena Workshop, where you can customise these vehicles. The Arena Workshop property inside the Maze Bank Arena, which includes an office and options to add Arena, Benny's, and Mobile Operations Center Mechanics, vehicle storage, interior customization and more. The workshop costs a minimum $995,000 fee from what I can tell, and they're based inside the Maze Bank Arena. This isn't a mandatory purchase to participate in the new Arena War content, but it sounds like you'll need one to have a 'career' in Arena War and earn AP, which unlocks further rewards. I've mailed Rockstar to double check that detail.
12 Arena Contender Vehicles
Available for purchase at the new Arena.tv website, are 12 new Arena Contender Vehicles. Each are available in Future Shock, Apocalypse, and Nightmare styles. Here are the total 12 vehicles:
Annis ZR380
Benefactor Bruiser
Bravado Sasquatch
Declasse Brutus
Declasse Impaler
HVY Scarab
MTL Cerberus
Vapid Arena Dominator
Vapid Arena Slamvan
Vapid Imperator
Weeny Arena Issi
Western Deathbike
Annis & Bravado T-Shirts and Huge Discounts
If all of those is not enough, check the huge discounts below. In additon, any GTA Online players who log in now through December 17th will receive the Annis & Bravado T-Shirts.
Mk II Weapon Upgrades & Customization – 35% off
Luxury Finishes – 25% off
MG & Combat MG – 25% off
Snipers – 25% off
SMGs – 25% off
Shotguns – 25% off
Pistols – 25% off
Explosives & Throwables – 25% off
Body Armor – 25% off
Arena War arrives in GTA Online for PS4, Xbox One, and PC on December 11. GTA Online is the multiplayer mode for Grand Theft Auto V. So if you haven't have a try yet, hurry up and get your free skirt.