NHL 20 Revealed: Release Date, Cover Athlete, Special Editions, Pre-Orders and New Features
During the NHL Awards on Wednesday night in Las Vegas, EA Sports officially announced NHL 20, and revealed first details on the game. Below, 5mmo.com will walk y ou through all the latest details on NHL 20.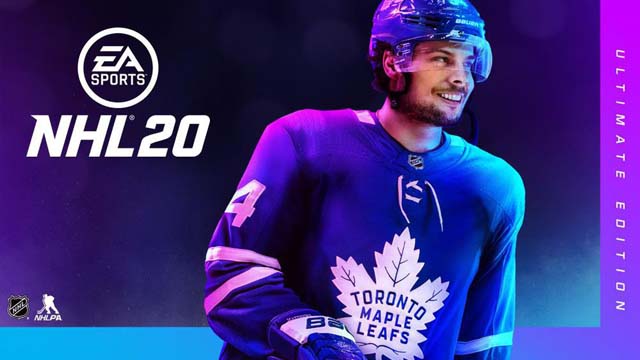 NHL 20 Release Date
NHL 20 will launch worldwide on Playstation 4 and Xbox One on Sept. 13 with pre-order early access for the "Deluxe" and "Ultimate" editions of the game slated for Sept. 10. Even earlier, subscribers to EA Access will be able to play the full game on September 5 thanks to the service's early trial period.
NHL 20 Cover Star
Auston Matthews of the Toronto Maple Leafs--a three-time All-Star and 2016 No. 1 overall draft pick--graces the cover of 2019's game. He earned the Calder Memorial Trophy in his rookie year after scoring a massive 40 goals. Over his first three seasons, he's averaged more than 30 goals per season and it's for this reason his team managed to earn a place in the Stanley Cup Playoffs again
Nhl 20 Special Editions and Pre-Order
NHL® 20 Standard Edition
Edition Includes:
Up to 2 HUT Diamond Player Choice Packs (1 per month for 2 months; exclusive to pre-orders ONLY)
1 Unlocked World of Chel Hockey Bag
NHL® 20 Deluxe Edition
Edition Includes:
Up to 3 days early access
Up to 5 HUT Diamond Player Choice Packs (1 per month for 5 months; exclusive to pre-orders ONLY)
1 HUT Hometown Hero Choice Pack
2 Unlocked World of Chel Hockey Bags
NHL® 20 Ultimate Edition
Edition includes:
Limited Time Cover Athlete Choice Pack (Ends July 18, 2019)
Up to 3 days early access
Up to 10 HUT Diamond Player Choice Packs (2 per month for 5 months) - 1 HUT Hometown Hero Choice Pack
5 Unlocked World of Chel Hockey Bags
Entry Collectible to HUT Launch Competitive Season
NHL 20 New Features
RPM Changes And Improvements
The latest layers of EA's Real Player Motion technology introduces Signature Shots for the league's top stars. This brings the unique shots of NHL superstars into the game, including Matthews' toe-drag wrist shot and PK Subban's heavy and powerful slapshot. Alexander Ovechkin's smooth-as-butter one-timer has also been brought into the game for NHL 20. There are hundreds of new shot animations, and RPM also addressed passing and puck pick-ups with the objective of creating a faster and smoother play experience.
Additionally, goalie AI has been changed with a "full offensive threat analysis" so players won't get as many cheap or scrappy goals.
ONES and THREES Eliminator
This year's game will introduce a new way to play ONES and THREES, and it's called Eliminator. It's a winner-take-all competition that introduces the popular battle royale concept. In Eliminator, 81 players compete against each other in a survival tournament bracket. The same concept applies to the THREES version of Eliminator.
Broadcast Package
EA completely rebuilt its broadcasting package for NHL 20 and introduces new commentators:local Vancouver radio personality James Cybulski as the play-by-play guy and color commentator Ray Ferraro, who moves from the Pierre McGuire role between the benches into the booth. That's in addition to new motion graphics, scoreboards and overlays.
Furthermore, a "Play Of The Game" feature "brings memorable plays to life through highlights designed to put top moments on a pedestal for both your teammates and opponents," per EA Sports.
Hockey Ultimate Team and NHL ONES
The popular FIFA Ultimate Team mode Squad Battles is coming to NHL this year. Here, you can pit your squad against a weekly featured team designed by influencers, celebrities, or professional athletes. Furthermore, fans can play with a new group of hockey Icons, which now numbers over 400.
CHEL Challenges
More World Of Chel Customization. EA adds 1,100 new customization items to the World of Chel this year. The changes include two new categories – baseball caps and face masks. To keep players coming back for more, NHL 20 also introduces Chel Challenges. These 15 objectives refresh every week and by completing them players can unlock unique customization rewards, character XP and more."
That's all we currently know about NHL 20. Stay tuned to
5mmo.com
, a professional online in-game currency store for
Cheap NHL 20 Coins
.