Players Can Earn A Barrel of GTA Online Cash by Preordering The Red Dead Redemption 2 and Double Their Benefits from Smuggler's Run Sell Missions, Dogfight, and Client Jobs This Week
Want to earn a pretty penny without any effort, just preorder
the Red Redemption 2
right now. Red Dead Redemption is is only a few days away, and if you preordered it digitally, you may already be able to preload the game on your console of choice. Moreover, you will get a bunch of bonuses by preordering. GTA Online players who preorder Red Dead Redemption 2 digitally from the PlayStation or Microsoft Store by October 15 will be handed extra cash.
The Standard Edition rewards $500,000, the Special Edition rewards $1 million, and the Ultimate Edition will reward you a whopping $2 million.
Besides, you can sample the first taste of the most anticipated action-adventure video game. One stone, two birds.
All they have to do is log into GTA Online this week a nab their bonus GTA$1,000,000. Those who have already pre-ordered digital editions of Red Dead Redemption 2 are also eligible to unlock the cash by logging into the game by October 15. The cash will be deposited into the player's Maze Bank account starting October 16 and will arrive no later than October 22. You can also buy
Cheap GTA 5 Money
from our website:
5mmo.com
. By using the code "
5MMO
" for a 3% discount, you can buy the in-game money at the cheapest price online.
Also, the Read Dead Redemption 2 Stone Hatchet and Double-Action Revolver challenges are dishing double this week. Those who already played them will receive a bonus GTA$250,000 any time this week. Those who have not can uncover the weapons and earn GTA$250,000 upon completion plus a bonus GTA$250,000 next week. For more specific details, check the video below.
As always, the Rockstar brings the latest updates to the GTA Online, along with a bunch of new benefits for players. This week all Smuggler's Run Sell Missions are paying out Double GTA$ & RP through October 29th. Plus, 1v1 a few would-be mavericks in Dogfight to collect double rewards for the same period. Also, jump into your Terrorbyte's Nerve Center and launch any Client Job via the touchscreen terminal and collect Double GTA$ & RP upon completion.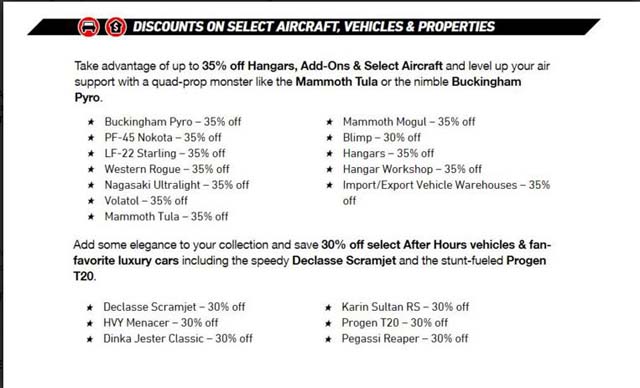 Aside from above mentioned double benefits, there are also huge discounts on some select aircraft, vehicles and other properties. For example, there are up to 35% discount off Hangars, Add-Ons & Select Aircraft. For example, LF-22 STARLING, P-45 NOKOTA, and MAMMOTH TULA are all on the discount list. There are many other aircraft on the list as well. You can check the above image to see the one you want to buy is whether on the list or not. Get you money ready and buy one of them. Isn't be cool to fly in the air with those amazing aircraft equipped with a quad-prop monster like the Mammoth Tula or the nimble Buckingham Pyro.
If you always crave for new rare vehicles to your collection, well, this would be a great chance you wouldn't want to miss. There is a 30% discount off select After Hours vehicles & fan-favorite luxury cars including the speedy Declasse Scramjet and the stunt-fueled Progen T20. in addition, a bunch of other luxury cars are also on the discount list this week. So, get your money ready and buy one before those discounts are gone. For more the latest GTA Online bonuses, discounts and events, stay tuned for our website:
5mmo.com
.