Players on Xbox and Steam can Play Rocket League and Join Radical Summer Event for Free Now
In celebration of Rocket League's 4th birthday,
from July 10 th to July 15th, Players on Xbox One (an active Xbox Live Gold membership is still required) and Steam will be able to download and play Rocket League for free.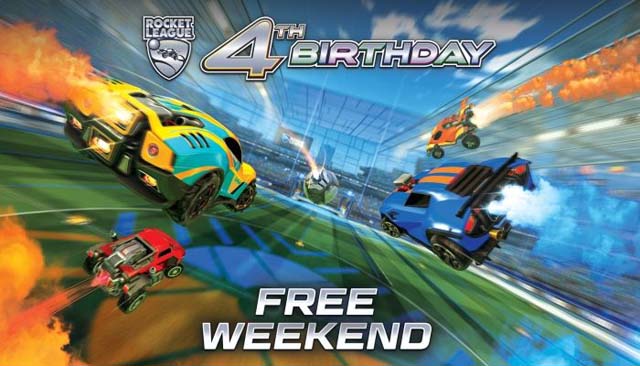 For those who might not be familiar, Rocket League is a popular vehicular soccer video game where two teams of up to four players each drive rocket-powered cars to knock the ball into the opposing teams goal area and reach the highest score. The game also features other sports modes, including Hoops (basketball) and Snow Day (ice hockey), and supports cross platform multiplayer between PS4, Nintendo Switch, Windows, macOS, and Linux.
As a longtime player I can assure you that this is a great time to try the game out, as Rocket League is currently in its Radical Summer event whi is focused on celebrating '80s summer culture and features new cosmetic items as well as a brand new game mode. All of the game's content is available for intrepid fans, so be sure to log in and try it out.
"This is the best time to check out all the content jam packed into the game for the summer—specifically Radical Summer. Our '80s-themed in-game event is in full swing. Earn Cassettes from playing Online Matches, which can be redeemed for unique in-game items inspired by '80s culture. Jump into Casual, Competitive, and Extra modes, or try out the new limited-time mode, Spike Rush. Any items that are earned from the Free Weekend will carry over to the full game if you decide to purchase Rocket League during or following the Free Weekend."
Psyonix said about the free weekend.
The Radical Summer event will keep going until August 12th, so if you' ve been looking for a good multiplayer arcade game to enjoy with a friend, log in and try the game now!
Learn more on the
Rocket League site
.
For more news and guide on gaming, stay tuned with
5mmo.com
, a professional online in-game currency store for purchasing
Cheap Rocket League Items
.