Epic Games refresh Fortnite Item Shop with a new set of various cosmetic items
including skins, back blings, emotes and other items every day. With your attention, our website
5mmo.com
also various items like weapons, traps, emotes and other
Cheap Fortnite Items
. Moreover, our prices are much lower then Fortnite Item Shop. Well, back to our subject, the latest items available in Fortnite Item Shop from March 13-14 include t
he Legendary skin, The Wild Card Skin.
Keep on reading for more details on the skin and how to unlock it.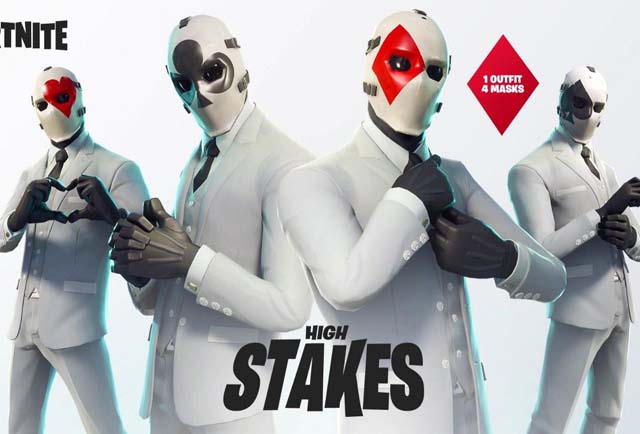 The Basic of The The Wild Card Skin
The Wild Card Skin is the slickest and smoothest Fortnite skin. It is a Legendary skin, so it won't cheap to purchase. The Wild Card skin was released during the High Stakes event that kicked off the new Getaway LTM in Season 5 Week 9. The outfit comes in four variations, each one wearing a white suit and one of the four card suit symbols : Hearts, Clubs, Spades, or Diamonds.
How To Unlock The The Wild Card Skin?
At the moment, as a Legendary item, The Wild Card skin in the Fornite Item Shop costs you 2,000 V-Bucks. So, if you are intended to buy yourself one, you can come to
5mmo.com
for
Cheap Fortnite Top Up V-Bucks
. 1,000 V-Bucks only costs you around 7 dollars. Moreover, with a coupon code "
5MMO
", you can enjoy 3% off. So, never miss out! Once you've made an order, we promise a delivery within 15 minutes. Give it try!
Other Cosmetic Items Now Available In Fortnite Item Shop
Aside from the The Wild Card Skin, there are a wide variety of other cosmetics item now available in the Fortnite Item Shop. To save you time, here's a full list of all the items available with their prices in Fortnite Item Shop,as you can check below:
Featured Items:
Wild Card - Legendary Outfit - 2,000 V-Bucks
Safecracker - Rare Glider - 800 V-Bucks
Diamonds - Uncommon Wrap - 600 V-Bucks
Daily Items
Pure Salt - Rare Emote - 500 V-Bucks
Prismatic - Rare Glider - 800 V-Bucks
Moniker - Rare Outfit - 1,200 V-Bucks
Cliffhanger - Rare Pickaxe - 800 V-Bucks
Slow Clap - Uncommon Emote - 200 V-Bucks
Scarlet Defender - Uncommon Outfit - 800 V-Bucks
One other note, the latest Fortnite Patch Notes V8.10 brings us a brand new vehicle, The Baller Vehicle is now available in Battle Royale. Many players are wondering how to rotate fast with this new vehicle. Here's some effective tricks for mastering the new vehicle. Reddit user dwarvencactus upload a video to show how to use the volcano and Baller to go anywhere you want. You can search for it on the internet and have a look.
That are all the latest details you need to know about Fortnite. For more news and guides on the game, stay tuned to
5mmo.com
.