After the release of WOW Classic last month, the development seems to be very smooth, players have returned to Azeroth, even the endless queue time did not stop their enthusiasm. According to Superdata, many of the players who play the nostalgic service are users who have previously failed to subscribe, and their return has greatly increased the subscription revenue.
Superdata's latest report suggests that subscription revenue from the game rose by "an estimated 223% in August compared to July."
That was enough to send the game flying up the analyst's PC earnings chart, coming in at third place behind Dungeon Fighter Online and League of Legends. World of Warcraft was the seventh top-grossing game in July.
While it looks like WoW Classic is doing all the right things for Blizzard, Superdata reports that the total revenue the game brought in over August still wasn't quite up there with what Blizzard raked in this time last year following the release of the Battle for Azeroth expansion. There's also a good chance that we'll be seeing a pretty sharp drop in subscribers again soon, as the joy of returning to a classic World of Warcraft could be little more than a disposable novelty for many of the returning players. We'll have to wait and see. That isn't just people re-subscribing either, that's a major increase in the service compared to how they've been doing the past five years.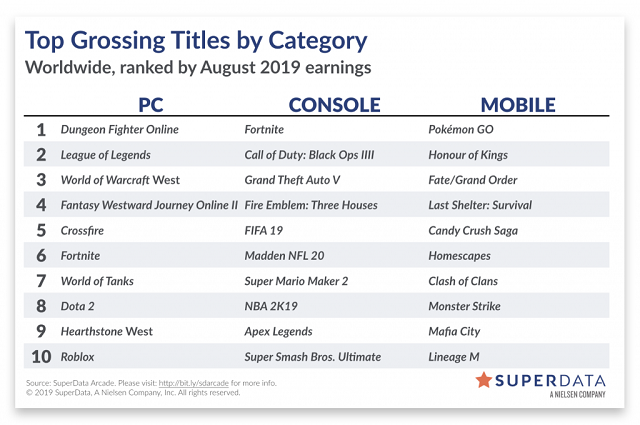 With this increase, WoW reached top 3 Top Grossing PC Title for August, behind only to League of Legends and Dungeon Fighter Online. In July, WoW was in 7th place, and didn't make to the top 10 in June. Superdata also ranks Blizzard title gross revenue specifically based on Western markets, precluding a huge portion of their total global presence, presumably due to Eastern countries using different payment models. It would seem that other titles are based on their worldwide revenue, as "West" is only specifically mentioned for World of Warcraft and Hearthstone. Pokemon Go has hit a new high water mark in terms of sales, making $176 million in August and cresting its peak revenue when it launched in 2016. "Pokémon GO generated $176 million in August, marking its highest point since peaking in 2016," SuperData argues. "Outperformance was partly driven by a flurry of in-game events as Niantic capitalized on what is typically the game's strongest month."
Despite the success of WOW Classic, it did not exceed the history of World of Warcraft. The total revenue in August was still lower than that of Blizzard's same period last year, when the new expansion pack Battle for Azeroth was officially released. Of course, perhaps the September earnings will be higher than in August, let us wait and see.