To keep Maplers always interested and have fun, from time to time, MapleStory brings back some classic adventures in Maple World for Maplers. This time, from March 6 to April 9, Maplers who are at level 61 and above will be able to join in a Retro World Event or a Retro Themed Arced Adventure, where Maplers can take part in a variety of old-school arcade-style games in 8-bit pixelated worlds to unlock bountiful rewards. For example, you can hunt monsters, collect coins, explore new dungeons and more. Aren't they very exciting? Keep on reading for what to expect on Retro World Event.

Here's a simplified breakdown of what events are included in Retro World Event in March:

Promote the Game!: Players will be able to hunt monsters near their level to retrieve Retro World Promo Coupons and receive coins for a special reward.
Eliminate Bug Monsters!: Retro World monsters will begin to appear in Maple World. Players who eliminate the monsters can acquire EXP, mesos and coins.
Call of the Goddess: Maplers can learn a special event skill from the ancient Retro World Goddess. As they use this skill, players will be able to earn additional coins after eliminating monsters.
What to Expect in Retro Themed Arcade adventure?

Maplers can enjoy some classic arcade-style games, for example, this time, in Retro World Event, you will be able to take part in Magician's Dodge Training, where you can collect coins by dodging the wizard's dangerous flames. Since every Mapler are pretty familiar with this kind of game. So, I bet it won't take you some time to earn multiple coins. Besides, you can also practice your jumping skill with Mercenary's Jump Training, where you jump between islands in a river to collect points. If you feel tired of these old-style games, there's a new mysterious dungeon in Demon King's Tower for you to explore. It is comprised of 4 stages that players must complete before defeating the Demon King boss. To rank up fast and easily in MapleStory, come and buy Cheap MapleStory M Mesos at 5mmo.com.

MapleStory also invites players to strap on their best detective hats and trench coats in the Detective Rave's Case Notes theme dungeon where characters level 175 or higher can embark on an adventurous journey with master investigator Detective Rave. By defeating monsters beneath the dungeon's streets, you will earn rewards like the Detective Rave's Honorary Assistant medal. You can even get an exclusive Lantern 13 chair by taking part in a special opening celebration held there.

In addition, Maplers are also invited to solve mysterious cases in Peplock Holmes Detective Offices to earn fun rewards.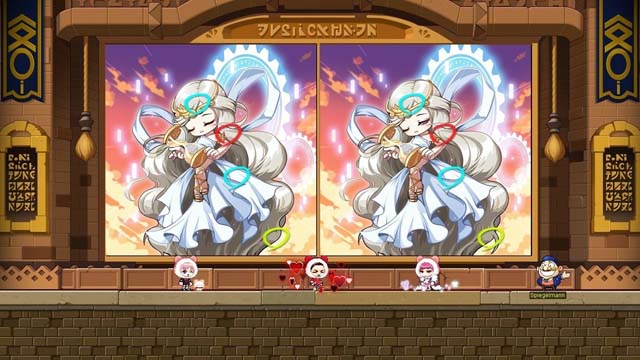 If all of these are not enough for you, there are some mini games to you to challenge against during your launch break. Such as spotting differences between two images and solving some puzzles. All of these are fun.

That's all you can expect in Retro World Event. After we've talked about it so much, I bet you can't wait to have a try. For more guides, news and updates on MapleStory, stay tuned to 5mmo.com.