Each Javelin creates a different special effect and do extra damage to enemies when executing a combo
, which would be a huge help when you tackle some Grandmaster difficulties in Anthem. So, either you are a beginner or veteran, it is necessary to understand how the combo system work in Anthem, which isn't a easy task. Since Anthem combos aren't well explained by the game itself, therefore, in this combo guide, we've laid out everything you should know about the combo system in Apex Legends.
How to Perform A Combo in Anthem?

To combo in Anthem, you'll first need to know which of a Javelin's unique abilities act as a primer and which are a detonator. Primers set them up for a combo and they are marked by circle next to the corresponding ability icon in the forge or on your hotbar; once your enemies are affected by a primer skill, they'll have a red icon of the corresponding element and That's your cue to follow up with a Detonator. Detonators are abilities or status effects, denoted by a four-pointed star next to their corresponding ability icons, which would finish combos and result in extra damage.

What Are Combo Effects?

Each Javelin has a unique combo effect when it detonates an enemy, in combat, you should know when to combo and when to let a teammate take the lead. While combos do more damage in general, your Javelin provides the primary benefit. To make your legend more powerful. Upgrade his weapons and gear with Cheap Anthem Shard Packs from 5mmo.com. Check our website and you'll be pleasantly surprised by our cheapest price. In addition, by inputting a coupon code "5MMO", you can enjoy additional 3% off. Here's a breakdown of Each Javelin and their corresponding combo effect :

Ranger: Critical Target Damage – Detonating an enemy causes more damage than any other Javelin's detonation
Colossus: Area-of-Effect Explosion – Bonus damage is dealt over a small area near the point of detonation.
Storm: Elemental Spread – Spreads elemental status of primer ability to more enemies near the point of detonation.
Interceptor: Aura – Detonating an enemy causes its elemental status effect to imbued into your Javelin, which can then be spread to nearby targets through proximity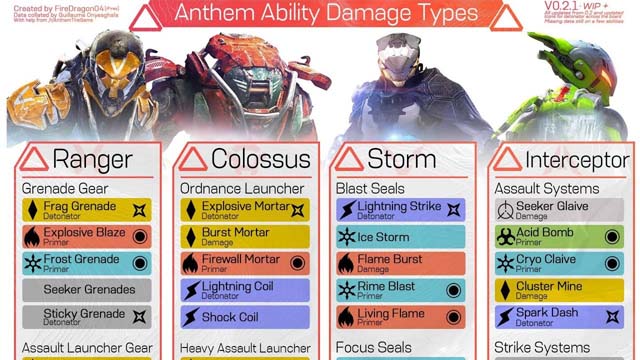 Elemental Types And Status Effects

Aside from the symbols for Primers and Detonators, you'll notice four others that indicate different elemental typing for abilities: Fire, Frost, Acid, and Electric, as you can see in the image above, made by a reddit user FireDragon04. Fire causes enemies to burn and take extra damage over time, Ice freezes enemies and stops them from moving, Acid lowers enemy resistances and makes them more vulnerable to damage, and Electric shocks enemies and causes them to spread the effect to others nearby. Additionally, there is a diamond symbol which represents abilities that deal Blast damage and a crosshair for Kinetic.

In most cases, most of you would have Ranger handle all of the detonations when fighting a boss, as its combo effect allows it to do the most damage on a single target. However, sometimes, Colossus, Storm, and Interceptor are also great for handling mobs of enemies bunched up together. For example, in situations where a boss is joined by enemy mobs, Storm and Interceptor's combo effects would be much better. In a world, consider each Javelin's role when setting up a combo next time. And that's all we have to say about combos in Anthem for now! For more news, guides on Anthem, stay tuned to 5mmo.com.