Anthem has been upon on us on all major platforms for a while and proves its popularity with over hundreds of millions players once it comes out! At the beginning of the game, one important decision you have to make is to choose a javelin class as your in-game character. In Anthem, there are totally four Javelin suit classes for uses to choose: The Ranger, Colossus, Interceptor, and Storm. All four classes have distinct weapons and abilities, that are exclusive to that class only. However,since all four javelin classes are the best at what they're designed to do, So, in this javelin guide, instead of telling you which Javelin is the most powerful, we'll be guiding you how to make a choice based on your own playstyle.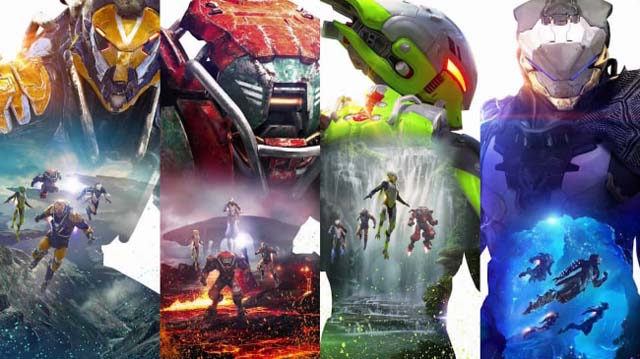 As you'll already know, there are four classes, or Javelins, in Anthem, each with a unique style of play. Each Javelin carries two weapons, and then five 'abilities': two main gear slots, a melee ability, an ultimate, and a support slot.

The Ranger

This Ranger-type Javelin is going to be the tutorial suit that all Anthem players start out with. Basically speaking,Ranger is the well-balanced jack of all trades but master of none. The Ranger has a lot of unique skills, such as barrel rolling in the air, a regenerating shield, and double-jumping capabilities. Combos is a major part in Anthem and you'll need a premier and a detonator to trigger a combo. Ranger suit is perfectly fitting for executing primers, while other suits can only equipped to devastating detonators.

Abilities:
Ultimate Ability: Micro-Missiles
Attack your enemies with a barrage of missiles that lock onto multiple moving targets to do significant damage.
Melee: Shock Mace
If shooting isn't your thing, go hand-to-hand with your opponent using a lightning stick that will give you an electrifying advantage.

The Storm

Compared with other javelin classes, Storm might be the favorite class among players, which wields some devastating elemental weaponry and attacks, . As its name indicates, it can move like a storm, which can help it dodge incoming attacks once you get used to the movement. By equipping three special pieces of gear, it obtains a special Seals ability. Blast Seals deal explosive damage. Moreover, as I've mentioned, everything in Anthem is based on combos. Storm is both a great primer Javelin and a perfect detonator.

However, it also has little frail too. It has less armor, and has the second-shallowest health pool, both of which can make battle a bit difficult in the game.

Abilities:
Ultimate Ability: Elemental Storm
Due to its ability to gain energy from the Anthem, the Storm can summon energy from the Anthem and rain down the full fury of nature's elements on their enemy.
Focus Seal: Frost Shards
Shoot your enemy with frozen shards that instantly freeze them and allows for a few seconds of undefended attacks.

The Colossus

By far the heaviest of all the Javelins with lots of health and a physical shield. They cannot dodge, and they overheat faster than the other Javelins, but they make up for it in sheer might and shields. With it being the only Javelin able to equip a heavy weapon, the Colossus is pretty much a killing machine.The Colossus ultimate ability allows the player to target multiple enemies or one larger enemy with a barrage of missiles. However, remember that this class is almost entirely founded upon teamwork and communication.

Abilities:
Ordinance Launcher: High-Explosive Mortar
A highly explosive projectile missile that does significant damage to any opponents that are inside its blast radius.
Heavy Assault Gear: Flame Thrower
Aim this at your enemy and they will meet a fiery death.

The Interceptor

As the lightest and fastest Javelin, the Interceptor can fly and dodge with incredible speed. They're best at rapidly getting up close and personal with enemies, and deal some serious damage with blades.

Abilities:
Assault System: Venom Bomb
Give your enemies an acid bomb to the face and cause lots of damage with corrosive attacks.
Support System: Targeting Beacon
Increase the amount of damage that one of your allies can do to an enemy that you designate.
How Should You Make A Choice?

If you're a tank kind of player, you should wear a Colossus suit. If you wanna be a All-rounder , then choose the Ranger Javelin. If you're a tactician, the Storm suit will suit you best. If you wanna have fun, pick up a Interceptor suit. Wanna unlock more weapons for your javelin? Come and buy Cheap Anthem Shard Packs from 5mmo.com. With 500 shards for only 3 dollars, our price are the cheapest online. In addition, by putting a coupon code "5MMO", you can enjoy additional 3% OFF. So, never miss out! Now you have a better idea of what each Javelin class in Anthem is and can make an informed decision on which Javelin to pick when you're presented with the decision early on.