Like Boomer in Far Cry 5, Timber is the very best companion in Far Cry New Dawn, which you can unlock at the beginning of the game. Luckily, it's actually pretty easy to find him incredibly early on in the game. Besides, you have a solve a puzzle before getting him to team up with you. Well, in this guide, we'll get all the details on Timber to help you recruit him.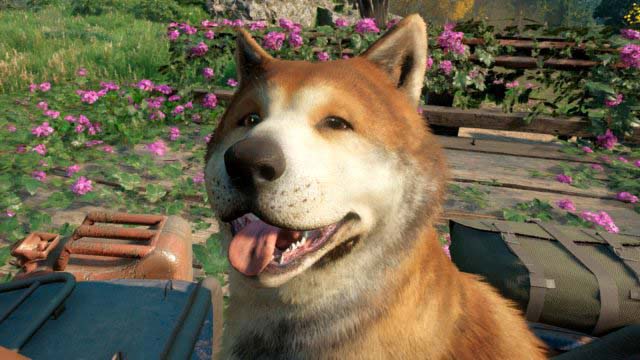 Who is Timber?
From the Roster page on your character menu right from the start, Timer is one of the 8 Guns for Hire you can really ally yourself with in Far Cry New Dawn. All these allies have specific abilities that can help you out, but just like in Far Cry 5, you can only have one character with you at a time. Among those companions, undoubtedly, Timber is the first partner you can unlock. To persuade you to get a Timer, here's a breakdown of useful abilities of Timer:

Retriever - Timber will tag enemies, dig Crafting Materials and occasionally bring you a weapon after disarming an enemy.
Pointer - Timber will t tag nearby Crafting Materials for you, and alarms.
Guard Dog - Timber will automatically intercept animals which try to attack you.

Moreover, unlike Boomer in Far Cry 5 where players would forever be leaving him behind or, far too often, accidentally running him over after getting into a vehicle , Timer can get into vehicles and ride along with you.

How to Get A Timber As Your Partner in Far Cry New Down?

First, head over to the Meatfort, to the northeast of Prosperity, and just east of the Broken Forge outpost to trigger Timber's quest. To trigger Timber's quest, you have to talk to the Wiki-Bean-ia scouts who can be found wandering Hope County, and they will often point you in the direction of major nearby locations, like those of Guns-for-Hire.

The Timber quest is called "Man Eat Dog World", where Timber is in a ruin which is under the control of the Highwaymen and you have kill them to save Timbers. By taking out any of the Highwaymen, you'll start the quest. Those Highwaymen are located in the northeast of the ruins of Fall's End.

After you've killed the enemies, head into the compound to free Timber. He will point out the way forward. The next mission is to free the rest of the dogs, for which you'll need a key. Follow Timber! Timber will lead you to platforming points, all the way up until you get the kennel key. Once you've got it, head back to the room where you found Timber. You can now unlock the rest of the cages to release the remaining dogs. Timber will now be your companion.
How to Upgrade Timber in Far Cry New Dawn?

In fact, in Far Cry New Dowm, gamers can upgrade Timer to make him more strong and powerful. To do this, he needs to kill enemies. 15 kills raise him to level 2, and then 40 to level 3. The best way to do this is to use the left d-pad input to send him after enemies. Wanna rank up fast and unlock other Guns for Hire pets? Come and buy Cheap Far Cry New Down Credits from 5mmo.com. Being a top online in-game currency store for many years, we've receive great population for our cheapest price and fast delivery. Moreover, every customer can enjoy 3% off with coupon code "5MMO" at our website.

So have you got a Timer to accompany you on your journey? If not, hope this guide would be helpful for you.