To survive in the post-apocalyptic world of Far Cry New Down, you must have
powerful manpower and arms
to battle against tough boasts. Circuit Boards is one of the humanity's prized resources in the game for crafting some of the best weapons and vehicles in the game. However,
Circuit Boards become more and more valuable as a crafting ingredient
, but they're also pretty tough to get hold of if you don't know how. Worse still, they are not easy to come by as you expect. To help you out, we'll be presenting you the best ways to go for it.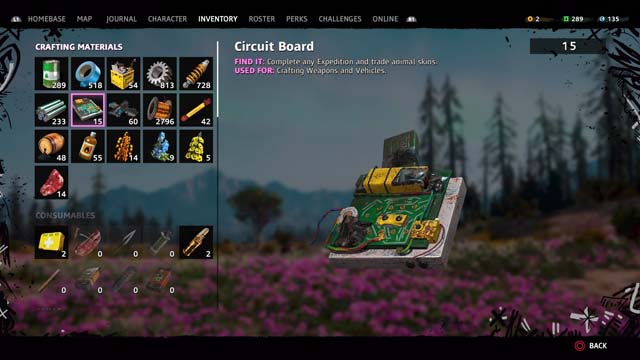 Far Cry New Dawn Circuit Boards

Circuit Boards are a necessary crafting component when it comes to crafting high-tier (Epic and Elite level) weaponry. This is especially useful for taking down powerful and high-level highway patrolmen and foes. Unfortunately, they just aren't as plentiful as other components such as duct tape, copper, and gears, you are nearly impossible to come by them on your journey across the ravages of Hope County.

Where to get Circuit Boards in Far Cry New Dawn?

Hunting

Basically, there are 3 dependable ways to get more circuit boards faster: hunting "monstrous" animals ,completing Expeditions and buy them with real-world money.
Although animal skins and pelts aren't directly used to craft most weapons and vehicles in Far Cry New Dawn, you can still trade pelts and skins for circuit boards in the game. In this case, you'll need to hunt two specific "monstrous"animals: the monstrous cougar and the monstrous bison.

Monstrous cougar: 10 circuit boards each
Monstrous bison: 10 circuit boards each

Note that both animals are hard to defeat, so be careful and prepared if you decide to give it a try.

Doing Expeditions

Completing the Expeditions is the best way to farm circuit boards. You can unlock the Expeditions by upgrading the Expeditions Facility at Homebase to Tier 1 for 75 Ethanol (check out our guide to collecting Far Cry New Dawn Ethanol for more about that) and speaking to the helicopter pilot at Prosperity. Each mission will net you around 20 Circuit Boards, and you can keep repeating them at harder difficulties. There are four tiers of difficulty, which you'll progressively unlock access to as you play through their respective star ratings from zero to three. Here's a breakdown of how many circuit boards each level will reward you.

Complete a 0 Star Expedition - 15 Circuit Boards
Complete a 1 Star Expedition - 20 Circuit Boards
Complete a 2 Star Expedition - 25 Circuit Boards
Complete a 3 Star Expedition - 25 Circuit Boards
Buying with Far Cry Credits

If investing in micro-transactions is your thing and are in need of a large amount of circuit boards immediately, then try the last way - buy circuit boards with Far Cry Credits. There are three packs available, which will have a set amount Circuit Boards among the components. You can acquire Cheap Far Cry New Down Credits by visiting our website, 5mmo.com. Comparing with other online in-game coin seller, our price are much cheaper. Moreover, you can enjoy 3% off with a coupon code "5MMO".