Mastery Ranking
is
a method of tracking a player's relative progress of how much of the game's content they have experienced
. To rank up higher, you'll need Mastery Points, which can be earned through a wide variety ways in the game like upgrading your weapons and gear. In this article, we've laid out some best ways to rank up mastery fast in the game. So,keep on reading.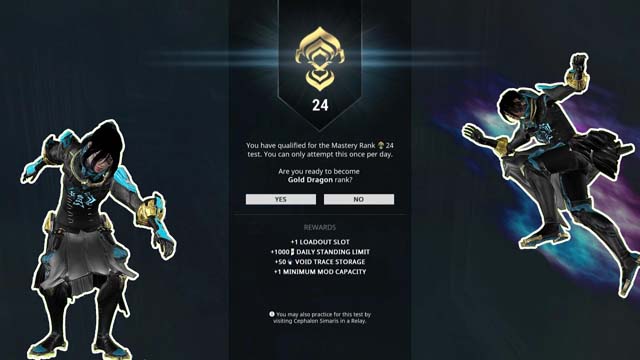 Master Rank does have a lot of benefits. It directly has influence on mods, weapons and Warframes, so until you reach a certain threshold, raising it as fast as possible should be a high priority for you. Reaching at least MR 12 will give you access to a lot of the different weapons in the game, while MR 15 will give you access to everything. Here's a breakdown of all the benefits of raising mastery rank in Warframe:

1. You are unable to get access to more weapons, Warframes and mods (especially Syndicate and Riven Mods)
2. Your daily trading limit will increase, as well as your Extractor deployment limit.
3. Higher mastery rank would raise maximum Void Trace capacity by 50 per rank and Syndicates are unlocked at MR 3 which will provide you a passive way to obtain unique weapons, mods and Platinum

How To Rank Up Your Mastery Fast In Warframe?

Now here comes the biggest question. How to rank up master fast as beginners? The only way to increase it is to continually level new items and explore new content. To be more specific, here are the ways in which you can gain Mastery XP:

First, to rank up your mastery, you need to collect "Affinity", a kind of experience points of MR, in missions, which can be earned by completing certain challenges and mission objectives, killing enemies, especially with your Warframe abilities or collecting Affinity Orb drops. For more Affinity, come and buy Cheap Warframe Platinum from 5mmo.com. Comparing with other online in-game coin seller, our price are much cheaper. Moreover, you can enjoy 3% off with a coupon code "5MMO".

Here's a second way. Every level gained on a Warframe, Companion and Archwing will award 200 Mastery XP. Hence, leveling a new Warframe to 30 will provide 6,000 Mastery XP. In addition, every level gained on any weapon (primary, secondary, melee, sentinel or archwing) also awards 100 Mastery XP.

Another helpful way to increase your Mastery Rank is completing the mission nodes on the different planets for the first time. There are currently 228 nodes that will give you 27.627 MR points in total. You can see your current progress by simply going into your profile in game and use the "STATS" tab.

Last, completing Junctions (discussed in Part 7) for the first time will award 1,000 Mastery XP.
One other note, to achieve a mastery rank, you will have to perform a mastery test. If you succeed on this test, you move on to the next rank, but if you fail, you must wait 24 hours to be able to perform the test again. These tests will ask you to perform a different kind of tasks like killing a bunch of enemies or even sometimes parkour runs.