Here Are All The Latest Details Of Fortnite Season 8: Release Date, Battle Pass, Map Changes,New Skins And More
As Fortnite Season 7 is scheduled to end on this Tursday, February 27,
Fortnite Season 8
is coming nearer to us
with new theme and new content
. I bet you must have lots of questions to ask: what's to come in brand-new Fortntie Season 8 ? when does Fortnite Season 8 start? and so on. Well, in this article, we got answers to all those questions. Here's what we know so far about Fortnite Season 8.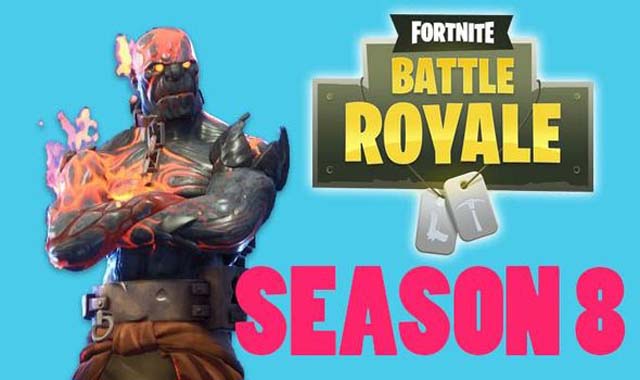 When Does Fortnite Season 8 Begin and Finish?

On February 24, Epic Games released a teaser image, confirming the release date of Fortnite Season 8. it is this Thursday, February 28. then how long will Fortnite Season 8 last? As we know, Season 7 is actually 12 weeks long, with a two week break over the Christmas period. So we guess that Fortnite Season 8 will also run for 10 weeks, which would mean that Fortnite Season 8 will end on Thursday, May 9.

How Much Will Fortnite Season 8 Cost?

As always, Fortnite Battle Pass would cost you 950 Fortnite V-Bucks, while the battle royale Fortnite mode is free to play for everyone. In the official Fortnite in-game shop, 1000 V-Bucks should cost you £7.99/$9.99, however, at our website, 5mmo.com, 1000 V-Bucks only cost you $7.37 and our items are absolutely safe. So, why nor choose us? In addition, with coupon code "5MMO", you can enjoy additional 3% OFF. Don't miss out! So, the following is the official battle pass overview trailer early released by Epic. Give it a watch now to see what's new in Fortnite Season 8 Battle Pass.
What Is Fortnite Season 8 Theme?

Just as it has done in the run up to previous seasons, Epic is dropping teasers in the days leading up to Season 8. so far, Epic has released 2 teasers, hitting that the new season will have a pirate theme - with the first teaser image showing a pirate hook seen at the top of this page and a poem that refers to "X Marks The Spot, treasure abound. Loot that has been lost, can always be found," and the second teaser image offering to a serpentine threat, likely related to the eggs (now missing) that were frozen beneath the Ice King's castle. In addition, there's a final teaser remained to be unknown. But we guess it must have something with the pirate theme.

What Map Changes Will Arrive With Fortnite Season 8?

We can guess that the snow will melt as the temperature gets warmer and transforms the world into a watery paradise. So, we'll be sailing ships across the map in season 8.

In addition, a big icy orb recently appeared above Polar Peaks, from which the Ice King summoned a massive copy of himself and covered the entire map in fresh coat of snow. The ice at the center of the castle at Polar Peak also melted, revealing the Fortnite Season 7 secret skin: the prisoner.

Besides, there's the earthquakes. They've been ravaging the north east quadrant of the map over the last week or two, and now Wailing Woods is beginning to brown. We're expecting a fiery expulsion.

What New Skins Will Be in Fortnite Season 8 Battle Pass?

As with every other season of Fortnite, we tend to get a sneak peek at the theme of the next season by the skins that are released in the weeks prior. So far, we have no word on what new skins would come this time, except a mix of more aquatic skins. Most recently the Fishstick skin, suggests that the melting of the ice and subsequent flooding of the map will result in a number of "water-themed" skins.

That's all we know so far about Fortnite Season 8. For more news, guides and updates on Fortnite, stay tuned to 5mmo.com.