Fortnite newest event, the Ice Storm, has arrived and and brought along some big map changes and challenges. It kicked off on January 1 th, when the frozen blue orb hovering high above the island broke open, revealing the Ice King, who covered the map in a blizzard. So far, the Fortnite Ice Storm event launched its list of challenges today and there are 13 total, with 3 live right now. It appears that two challenges will go live per day every day for the rest of the week. The following is a list of challenges now available: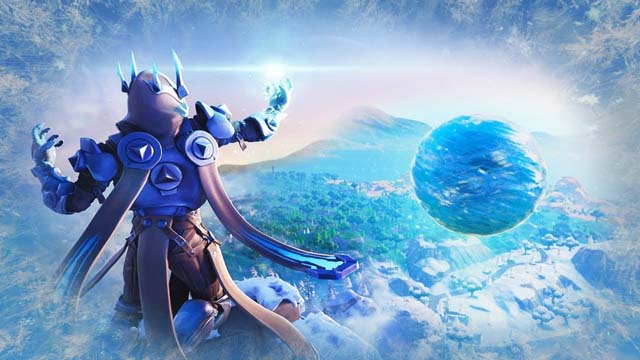 Challenge 1:
Complete 6 Challenges - This one is fairly straight forward of course, and will take some time since not every challenge is available.
Challenge 2:
Destroy Ice Fiends - You will need to defeat 250 Ice Fiends to complete this Ice Storm Challenge. The Ice Fiends are essentially the zombies from past Fortnite events and can be found scattered around the map, which is now covered in snow.
Challenge 3:
Deal Damage with explosive weapons to the Ice Legion - In order to quickly unlock the first two Ice Storm Challenges, you can take out Ice Fiends with explosive weapons. You will need to deal 5000 damage to the Ice Legion to unlock this challenge and doing so should also come close to completing the 250 Ice Fiends step.
Challenge 4:
Destroy Ice Brutes. You will need to destroy 100 Brutes to complete this challenge, which you can do with an explosive weapon to also help you progress in the third challenge.
Challenge 5:
Deal 10,000 damage with Assault Rifles or Pistols to the Ice Legion.
As you can see in the above list, the Ice Storm challenges should generally be fairly easy to complete. So, if you survived the precarious minutes today at 2 PM ET when the Fortnite Ice Storm event launched, you saw the Ice King burst from his sphere and flash-freeze the entire map. The event may grow and change over time, but for now, it looks very familiar. For all intents and purposes, it's the return of Fortnitemares, the Halloween event which spawned NPC monsters on the map for you to farm for shields, health, weapons and other gear, if they didn't kill you first. For more V-Bucks, come and buy Cheap Fortnite Top Up V-Bucks at 5mmo.com, featuring the cheapest price online and fast delivery. Additionally, every customer can enjoy a 3% discount by using the coupon code "5MMO".


The Ice King isn't the only secret to be revealed. Players are also finding a bunker underneath the (since destroyed) iceberg by Happy Hamlet, and several eggs inside the prison underneath the castle on Polar Peak. What that all means, only time will tell.

Over the next five days, new challenges will unlock in Fortnite, each one offering 500 experience points for completion. Once six Ice Storm challenges are completed, players will received a cool black and ice blue wrap, The Blue Metallic Wrap, an uncommon item. For those that manage to complete all 13 challenges, there's a Winter's Thorn Glider as a reward. So pick up some grenades, find the Ice Legion and you will be well on your way to unlocking all the Ice Storm Challenges in Fortnite.