Forza Horizon 4 Series 5 Update Introduces A New Mode, New Story Content, and A Free Car Pack
Support for Forza Horizon 4 has continued into the new year with the release of the first update of 2019.
The Series 5 update
introduces
a new adventure playlist and a free Mitsubishi cars pack
including seven cars from the Japanese manufacturer. Moreover, the Playground Games is also introducing Isha's Taxis, a new Horizon Story with 10 missions . Additionally, and plenty of other bug fixes and gameplay improvements. Here's what's new in The Series 5 update of Forza Horizon 4.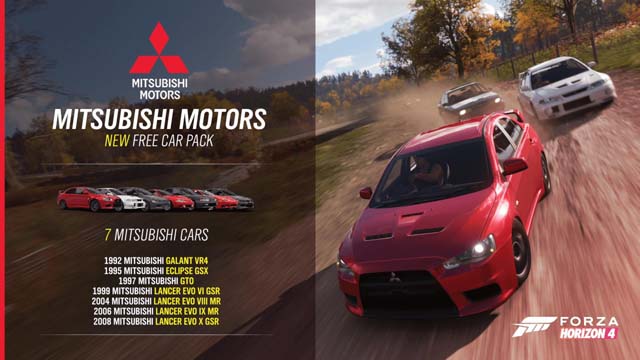 A New Car Pack: 7 New Mitsubishi Cars For Free
Firstly, the return of Mitsubishi comes in the form of a new free Car Pack, that will be available to download at no cost with the release of the Series 5 Update on Tuesday, January 15th at 6pm GMT. Seven cars are featured in the pack, which can be seen in the below graphic, and they include beloved fan-favourites like the Eclipse GSX and the Galant VR4, alongside a line-up of legendary Evo models from over the years. Playground Games will also introduce a selection of Mitsubishi-themed content into Forza Horizon 4, including a Forzathon event featuring the Evo 6 that focuses on its rivalry with Subaru in the 90s, as well as one that features the legendary Eclipse. Upcoming Seasonal Championships will also make use of Mitsubishi cars.
New Horizon Story: Isha's Taxis
In addition to the free car pack, Playground Games is also introducing Isha's Taxis, a new Horizon Story with 10 missions where you'll be driving the classic Austin FX4 taxi and the Cadillac TXS Limousine. However, it'll cost you 100,000 credits to fund the business. The new Horizon Story introduces a new Horizon Business. Isha wants to run the fastest taxi service in the world, but she needs someone to drive it, and that's where you come in. As well as the Daily Payouts that come with a new business, players can take on ten new Horizon Story missions, and drive the Austin FX4 taxi and Cadillac TXS Limousine. If players drive well enough, they can earn the Austin FX4 as a Level 10 reward.
Brand New Solo Online Mode: Free-for-all Adventure
Other changes in the Series 5 Update include the introduction of the'Free-For-All Adventure' mode, which is available in both Ranked and Unranked variants. Free-for-all Adventure is a new online adventure playlist that allows players to compete individually rather than teaming up with other players. This new free-for-all experience replaces the 'Anything Goes' mode from Team Adventure, which combined Racing and Playground Games into one playlist.
Additionally, Horizon Seasons receives some new features too. There are 12 new season events, including trial events and PR stunt challenges, as well as a new Rivals event. There are also new cars and shop items. Finally, there is a list of gameplay improvements and bug fixes that you can see in the video above.
So, during the following four weeks, you can log in the game and experience Mitsubishi, Isha's Taxis and Free-for-All Adventure with all the tweaks and improvements featured in the Series 5 Update on Xbox One and Windows 10 PC. For
Cheap Forza Horizon 4 Credits
, come and buy at at
5mmo.com
, where you can enjoy the cheapest price online by using the code "
5MMO
" for a 3% discount. One you've made an order, we'll deliver coins to you immediately.