Wanna be a good 8 ball pool player then
become a coins collector
. This may sound weird but coins are extremely important in 8 Ball Pool. If you've been in the game for some time, you would know what I said is definitely true. Earning enough of them will allow you
entry into lobbies with high-level players and huge victory pots.
Once you've have a big amount of coins, use those to buy the best of the best cue. Once you get the best cue you become the guy with a good cue and girls may attract towards it.Ah just kidding. But you definitely win more games and rank up fast. So, in this article, we'll show you how to get a good cue and earn coins quickly.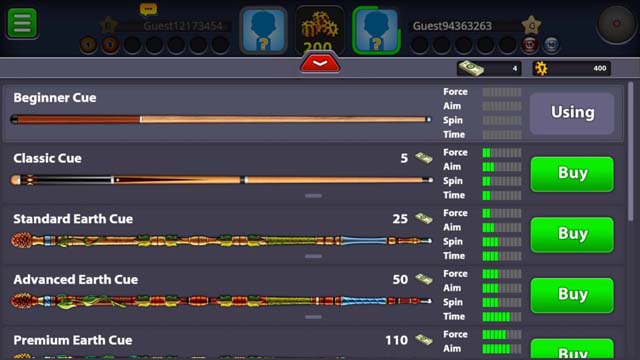 How to get a good cue ?
There are three ways to get a good cue. The best are unlocked as you advance in rank. The hardest method is simply to improve your skill and win more money. You need cash to get cues and you'll have to put the time in to earn it. The quickest way to double your money is the Monaco All In Lounge, the very first table in the one-on-one category. If you have more time, a lower risk strategy is to try and win tournaments and other one-on-one games.
The second route to a badass cue is luck. Every 24 hours you'll receive a free spin of the mystery wheel, which can blag you up to around 100,000 coins, or dispense other prizes. You have a shot at a big jackpot every day, so remember to spin - it all goes towards the cues you need.
And finally, of course, you can just throw real money at the problem. Spend cash on in-game currency with which to purchase items in the store. There's nothing wrong with putting a bit of money into a free-to-play game if it helps you buy a good cue early on, we've all done it. However it's very possible to do well without actually spending a penny.
One other note, you can also get a good cue by buying
Cheap B Ball Pool Coins
at
5mmo.com
, where you can enjoy the cheapest price online by using the code "
5MMO
" for a 3% discount. One you've made an order, we'll deliver coins to you immediately.
How to earn pool coins fast and easily?
Have some self control. Don't rush to get more coins and take your time. The trick is to always plan it so that you have twice as much coins as the coins you could lose. So, say you want to play Tokyo and you have 7,500, minus cue recharge coins. Let's use the Standard Cue as an example.
You shouldn't play it because the cue recharge will put you at 4,800 coins if you lose and you have to recharge your cue during the game. If you always have at least double of what you lose you will never go broke. Don't get desperate. When you're dirt broke, look at your coins. Remember that amount when you're rolling in dough and ask yourself, "do I really want to go back there? Back to no coins?"
Don't fall for tournament desperation, just grind Moscow for a bit and move on to Tokyo once you have enough. After that, it's simple. Simply make sure you'll have twice as you lose, trust me. With some self-control you'll make it big in no time.