How to Get A Good Cue, The Legendary Cue, The Galaxy Cue and Other Cues to Win More Matches in 8 Ball Pool
Cues
play an very important role in determining your winning in
8 Ball Pool
. Owing a better cue is a quick way to give yourself an advantage right out of the gate. By using the few coins you initially earn to upgrade your cue, you'll have more success at winning your matches. The first cues you will have access to purchase can give you slight advantages to make you shoot with more power, extend your aiming guides, improve your cue ball control, or increase the amount of time you have to shoot. The more you play, the more cues you can unlock for purchase. Initially the cues you can access are just okay, but as you log more hours and wins you can use the coins you earn in the game to buy cues with some really great benefits. Well, this article covers the basic guide for how to get a good cue and how to get a legendary cue. So, just keep on reading.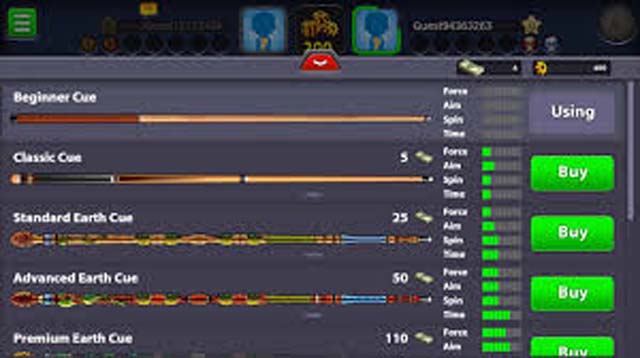 There is currently
143 cues: 54 standard cues, 32 premium cues and 60 standard cues
available. The most expensive cues
are the Black Hole Cue and the Galaxy Cue
. The Black Hole Cue is obtainable at level 52, costs 4200000 pool coins to purchase (it costs 6000000 pool coins on mobile devices) and 420000 pool coins to recharge and the Galaxy Cue is obtainable at level 26, costs 750 pool cash to purchase and 1875 pool coins to recharge. if you want to unlock more better cues, come to our website:
5mmo.com
for cheap in-game coins.
It is one of the best cues in the game statistic-wise. Because of its time and force, it betters the Black Hole Cue. New players begin their game as a "Beginner" using the Beginner Cue,which perfectly suits its job as the starting cue as it is simple and costs nothing to recharge. As you win more matches and level up higher, you can unlock more batter cues. Of course it also costs you lots of pool coins. Then how to get a good cue during your procession, herein we lay out some essential points for you.
Always play with tact
This means putting the ball directly behind your ball and always hit the rails and the ball softly. Of course, to flourish your skills and your win percentage, this is not enough. You need to watch online videos of elite, advanced and skilled player to have a better control of the ball in the pool.
Always utilize trickshots
Some trickshots are easy, some are not. Always complete the easy ones until you are perfectly comfortable with completing the harder ones. The main definition of a trickshot is where you don't pull off an easy shot; as such, you bounce the cue ball off the cushion to pot a ball, etc. But the hard part about trickshots is that, if not done with attentiveness, they can go horribly wrong, and backfire. You can check the article in the previous series article of 8 Ball Pool, with one of them which talking about break shot techniques.
Buy a cue suits you instead of the best one
You'll find that most pool players use decent, solid cues. If you want to buy a suitable cue in 8 Ball Pool, buy
Cheap 8 Ball Pool Coins
from our website:
5mmo.com
and you can use the code "
5MMO
" for a 3% discount. The Beginner Cue is an example of an under used, low quality cue, and the Shaman Cue is an example of a solid, decent quality one. Even if the Shaman Cue isn't the best, you can still use it to complete those all-important winning shots. Besides, it does not depend on one's cue to win games; it depends on their skill. Want to how to get an Legendary cue, check the video above.