Leagues
are a pivotal component of 8 Ball Pool which determine your league or ranking by your level. With Leagues, players are placed with three-hundred players of a similar amount of experience and technique. Leagues were originally added to the game as an addition to the
Weekly Competition
feature; Miniclip wanted to group players with people who play at similar levels and put them into their own leagues. Every week, the player would be ranked on their total weekly winnings. Each week, the top three players win a prize. There are ten different leagues based on the player's level; after making it into a new league, the player is given a reward. what is in them, however, progressively get better when the league gets higher. Besides, Each different league has
an icon design and emblem
. For example, the Brass League has a liard-coloured emblem with a gold outline, while the Bronze League has a bronze emblem with a gold outline.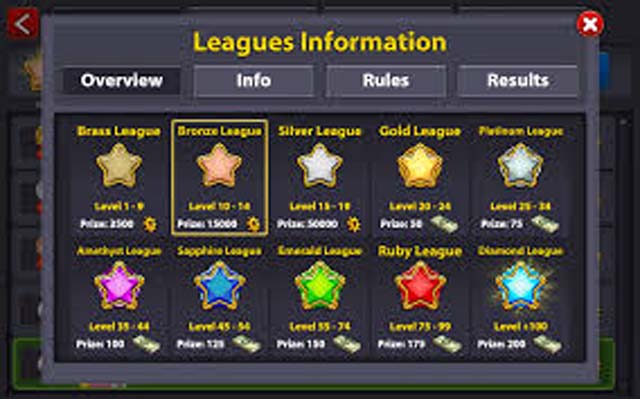 So to rank up higher league, you need to accumulate the winnings in Weekly competitions which is a competition held between world leagues, country leagues, friends leagues and "my leagues" every week. During the weekly competition, players must accumulate and acquire as much money as possible in order to better other players. The total amount of coins you have won over the week will act like a score sheet, the more you have the higher you will be ranked. If the player gets any position in the top three, then they win a prize, ranging from 500 Pool Coins to 1500 Pool Cash. If you win the prize, you have to open the app on your mobile or the game on Miniclip.com or Facebook, and you'll get an alert prompting you to claim your prize.
As for the coins, there are some notes worth your attention. First, the coins earned from All-In Matches are excluded from the leaderboards, to avoid giving an advantage to players who already have large coin balances and are therefore able to stake large amounts of coins on a single match. However, every other tier is eligible for ranking purposes. Besides, when you play with your friends, only the result from the first match counts. If you lack coins, you can buy
Cheap 8 Ball Pool Coins
from
5mmo.com
, the cheapest online in-game currency store. Besides, you can use the code "
5MMO
" for a 3% discount at our website. In addition, players will only receive the prize for the league that you started the week in even if you are put into another league later, which means that if you are in Silver League and move to the Gold League you will only receive the prize for the Silver League. You will only move definitively to the Gold League at the end of that week's competition.
How to win weekly competition
Weekly competition starts from Monday and ends at Sunday. So you have seven days to fight in 8 ball pool game. First of all you should manage your 8 ball pool coins because if you have a small quantity of 8 ball pool coins weekly competition of 8 ball pool will be difficult for you to win. For more
Cheap 8 Ball Pool Coins
, come to
5mmo.com
. After managing your 8 ball pool coins as the week start you should need to play big 8 ball pool games so that you earn more in less time and don't give the chance to other players.