Forza Horizon 4 Bussiness Guide: What Business Should You Buy and How to Claim Your Business Profit
There are various way to earn credits, the main in-game currency in Forza Horizon 4. Today, we'll show you how to make credits through business payouts. Although is doesn't yield multiple credits immediately, however, you can farm a small mount of credits every day without much efforts. So, it definitely worth your try. So, for new beginners, in this article, we'll show you what business you should buy and how to make money from it.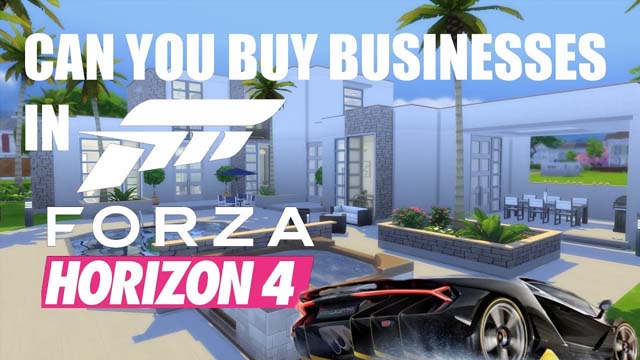 What business should you buy?
World's Fastest Rentals

So far, there are only two kinds of business available in Forza Horizon 4. the first is World's Fastest Rentals. This business is located in the middle of Edinburgh city, which is the most city-like place in Forza Horizon 4. You will be contacted to buy this business later in the game and it should cost you around 100,000 credits.

There are also missions like the one you do with Stunt Driver. There are 10 missions in total and 30 stars to collect overall. The more stars you have, the higher your daily business payouts. At 10 / 30 stars, you are able to get slightly over 7,000 credits a day, which is pretty much passive income. Some players who have reached 30 stars claimed to be getting 15,000 credits a day. So, if you wanna make more credits, have a try.

The Isha's Taxis

Additionally, the latest Series 5 updates introduce a new kind of business for players, the Isha's Taxis. This business is located pretty close to the Horizon Festival Site. You can check out its exact location in the map above. It costs 100,000 credits to buy this business. In this business seems to be able to use a taxi with an exclusive upgrade. At least two types of Taxi can be used in this business, and on-road spec Taxi has Ferrari V12. And off-road spec Taxi has off-road tires for SUV, and higher ride height. Just like the World's Fastest Rentals, you have missions to do, with a total of 30 stars. Apart from doing missions that reward credits and influence, you will also get a daily payout.
How to claim business profit?
After you buy a business in Forza Horizon 4, they earn you profit over time. Then what should you do to claim business earnings in Forza Horizon 4 ? here's how to do it.

You can earn more Business cash if you max out the business missions, achieving maximum stars in each of the objectives. Once you've had a business for a 24 hour period, you will receive a message that you have some profits to collect. Wanna make easy money? Come and buy Cheap Forza Horizon 4 Credits at 5mmo.com, where you can enjoy the cheapest price online by using the code "5MMO" for a 3% discount.

Go to the main menu and select the Home tab. From there navigate down to the Welcome Back tab on the left. This brings up the events for this season, special rewards, etc. In the lower right of the screen you will find Business Earnings. You can come here to claim them once every 24 hours.