Many Forza Horizon 4 players are wondering how to maximize XP points earning and level up fast in the game. To help then out, today, we've made up this guide, gathering tips from multiple experienced players to show you some particularly efficient ways. So, keep on reading.

With you attention, the following two ways we are going to talk about require buying either DLC or a specific car in game.

1. Bonus Boards (Influence)

First, you need to buy the "Treasure Map" DLC item. It costs 2.99 on Xbox Marketplace which isn't very expensive and yet it reveals every bonus board and, when available, shows exactly where each barn find is. This is a massive time saver, not to mention that simply driving around and smashing every influence board you can whether that's your main goal or you're doing so while on the way to your next event, this will help boost your levels quickly.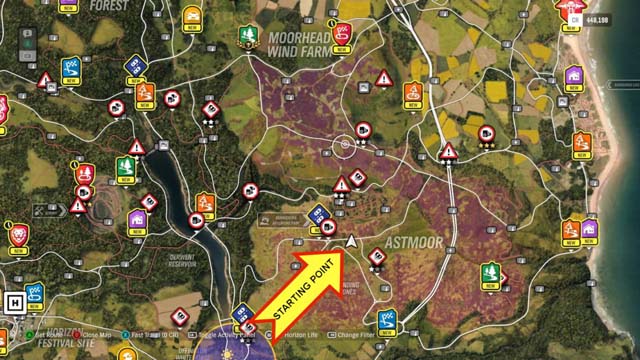 2. Beach Skill Point Farming
Buy a 1980 Renault 5 Turbo FE (Forza Edition) car. They can be found on the auction block for less than 300k last I looked. I got mine for 200k. It's a skills car (all skills, not just speed or clean) but the reason why it's a must buy is because if you max out the skill tree and head to the dunes/beach next to Bamburgh castle, you can very easily skill farm. You can amass 71,500 score (x7.0 multiplier) for exactly 500,500 points which is the minimum (500k score) you need to get 10x skill points for unlocking things on any car's skill tree. Each run for 500k skill score should only take you around 45-80 seconds (depending on how good you are at skill; or essentially a minute on average). Not only does this get you 10 skill points to use on any car you own, doing this and banking a ton of skill points can get you many spins via car skill trees or even free money or free FE cars depending on what car skill tree you are unlocking stuff for. Use those points on any car tree you can, starting with the highest value cars you own, whether they're bought or gotten via spins. Also, every time you get 500,000 skill score the game gives you nearly 5,000 influence. That's equivalent to influence given for a regular story mode race or the high end influence boards scattered across the map PER MINUTE!!! Levels come SUPER quick with this method. It also boosts your level in the "Skill"category which of course helps you rank up too! For more skill points, come and buy Cheap Forza Horizon 4 Credits at 5mmo.com, featuring the cheapest price online and fast delivery. Additionally, every customer can enjoy a 3% discount by using the coupon code "5MMO".
3. Buy Super Wheelspins for 150FP at the Forzathon Shop
Here comes the last but also the simplest method: a straightforward transaction in the Forzathon Shop. If you're wondering why you can't see that yet, be aware that you need to play one complete season cycle before all game features become available. Seasonal events where you'll earn FP, along with the store to spend them in, don't pop up into your menu until you join the Horizon Festival in (spoilers) your second summer in the game. 150FP is a fairly steep price, so you'll need to really mainline the Forzathon events if you want to grind super wheelspins this way. No getting distracted with solo races.