Fortnite Is Hosting A DJ Marshmello Concert And Fortnite Season 7 Week 9 Challenges Are Leaked Now
Big news for Fortnite players! This Saturday, Epic is throwing
an in-game Marshmello EDM concert inside Fortnite Battle Royale itself
. Website FortniteNews posted several pieces of leaked info of a (now confirmed) concert stage in
Pleasant Park
, new skins and items for the event and a special set of challenges to coincide with the show. Here' s what we know so far.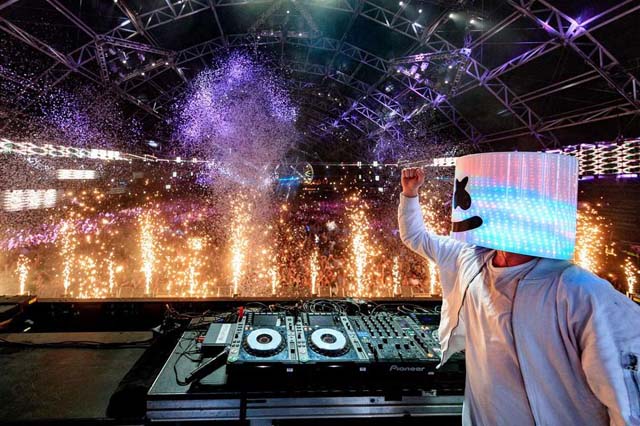 Marshmello EDM Concert Event Details
1. The event will begin at 2 PM ET on Saturday, though it's not clear how long it will run for.
2. It takes place in Pleasant Park, though you may see the lights/hear the music from anywhere on the map.
3. It apparently will be its own LTM called "Party at Pleasant Park" with respawns enabled, meaning you will probably be able to kill each other during the party.
4. There's apparently a cosmetic bundle for the event which will include a Marshmello skin, pickaxe and spray. No word on pricing.
5. There are some leaked animations that show "DJ dancing" for lack of a better term which would appear to be how Marshmello himself will act on stage.
6. Object leaks have shown speakers, a stage, lights, all of which should be set up on the football field at Pleasant Park, presumably.
Although there's still no official announcement for Fortnite: Battle Royale's upcoming Marshmello concert, where we're going, we don't need an official announcement. If you go to Pleasant Park right now, you can see the stage already going up. The big show will be happening on the football field towards the center of town: if you drop in right now you can see a stage, a couple of trucks, a frame for lights and one long stack of speakers. We'll see more over the next few days, so keep an eye out. So, for more on the music in-game event, stay tuned for
5mmo.com
. Additionally, you can also buy
Cheap Fortnite Top Up V-Bucks
at our website. By using the coupon code "
5MMO
", you can enjoy a 3% discount when you buying.
Fortnite Season 7 Week 9 Challenges Leaked Now
Additionally, as usual, the Fortnite Season 7, Week 9 challenges have been leaked ahead of time online. Here's a first peek at what to expect when they go live on PC, PS4, Xbox One and every other platform on January 31.
Free Pass Challenges
Use a Sneaky Snowman in different matches (3)
Stage 1: Dance on top of a sundial
Stage 2: Dance on top of an oversized cup of coffee
Stage 3: Dance on top of a giant metal dog head
Shotgun Eliminations (3)
Battle Pass Challenges
Complete timed trials in an x-4 Stormwing Plane (3)
Stage 1: Land at Retail Row
Stage 2: Land at Frosty Flights
Stage 3: Land at Haunted Hills
Stage 4: Land at Shifty Shafts
Final Stage: Land at Dusty Divot
Pop Golden Balloons (10)
Eliminate opponents at Junk Junction or Retail Row.
As you can see in the above list, comparing with week 8 challenges, week 9 challenges are much more interesting and divers. The Week 9, Season 7 challenges are expected to go live on Thursday, January 31. As always, we will be posting guides and tips throughout the day to help you get through them all as quickly as possible. So, stay tuned for
5mmo,com
.