There are various currencies in MapleStory 2. In Maplestory 2, there are 13 kinds of currencies namely, meso, blue meret, red meret, blue star, red star, treva coins, rue coins, Havi fruit, Kay's coin, premium coin, event dungeon coin, guild coin and style coin. (excluding the event-only currencies; e.g. Maple coin). With those currencies, you can exchange for virtual goods or items in the game. Today, in this article, we'll focus on meret in MapleStory 2. what are they used for and how to obtain them? Here are answers to all the question.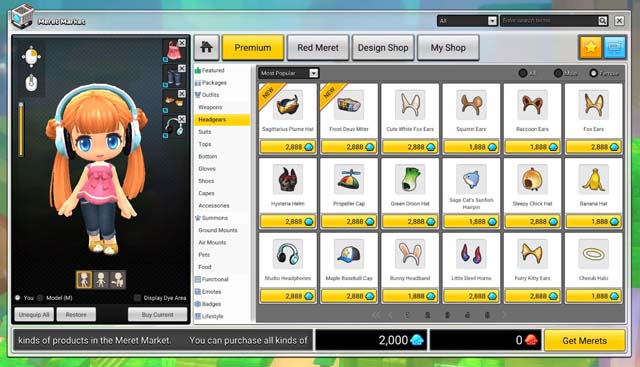 What Is Blue Meret and Red Meret?

There is two kinds of meret in MapleStory 2. One is the Blue Meret, the other is Red Meret.
Blue Meret is the hard currency in the game. Blue merets can be use to purchase exclusive items at the meret market. It is also used for UGC (user generated content) creation and extending as with Red Meret, they have same the uses as the blue meret, but only certain items are listed on red meret market. For more Cheap MapleStory 2 Meos, come to 5mmo.com, where you can enjoy the cheapest price online and fast delivery. Moreover, with coupon code "5MMO", you can enjoy additional 3% off.
How To Get Merets In MapleStory 2?

Unlike normal cash, Meret are a bit more tricky to earn. They are pretty much considered premium currency, you will have to put a bit of effort into getting some. Firstly, it's important to note that these can be used to change your appearance at the salon and buy different items in the marketplace, among other facilities. One of the best ways to get Meret in MapleStory 2 is by selling your own creations in the game, otherwise known as user generated content. There's a specific tab on the MapleStory 2 marketplace that lets you place any items you have for sale, which is great if you know how to make designs for shirts or other clothes. From there, upload your designs to the marketplace and hope that players will be interested enough to spend money on it.

As with blue meret, since it is hard currency in the game, so, you can only obtain them by converting physical cash or the real world money to the game. Depending on the region you are playing, in North america, 1 US dollar is equal to 100 blue merets.

As with red meret, unlike with Blue Merets, you can't actually buy Red Merets in MapleStory 2. Since these are the unpaid version of Merets, there are only a few ways to get them.

Firstly, you can get them through login rewards or events. Sometimes Nexon will run promotions from time to time, giving players some of the currency for free. Unfortunately, there doesn't seem to be another way to get them apart from Nexon actually giving them away. For now, the best way to stay on top of Red Meret giveaways is by playing the game every day and checking your mail. Similarly, you can also follow the official MapleStory 2 social media account for any upcoming announcements regarding Meret giveaways.