GTA Online Weekly Update: A New Muscle Car, A Log-In Reward, Huge Discounts And Bonuses
As the best-selling entertainment product in Rockstar's history, to keep players still interested, Grand Theft Auto Online is updated every week, featuring new cars and bountiful benefits for GTA players. As usual, the latest week also brings a new car, a log-in reward, discounts and ways to earn some extra GTA$. To save you time, today, in this GTA guide, we'll be showing you what benefits you can earn this week. So, keep on reading.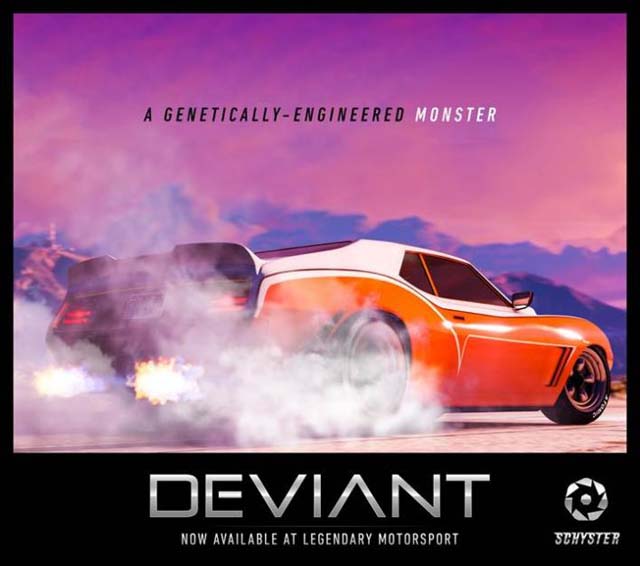 Slick New Muscle Car, The Schyster Deviant
One highlights of GTA Online this week is the return of the muscle car, the Schyster Deviant. Previously, the Deviant was considered an underdog in the muscle car field. However, after revamp, remodel, and re-engineeration, the Schyster Deviant is back with a point to prove - available now at Legendary Motorsport. As you can seen in the image above, the Schyster Deviant looks like something inspired by the 70s, but made with today's sensibilities. in fact, The Deviant is based on a custom vehicle. The Javelin AMX Defiant, which is a heavily modified 1972 muscle car, served as the basis of this ride. Whatever that means. The point is, it's a pretty cool looking car.
Schyster T-Shirt

Additionally, to celebrate the release of the Deviant, Team Schyster is awarding all players who log in this week with a free Schyster T-shirt. However, players now have a chance to unlock some of the older limited edition in-game shirts, as this week Business Battles have a chance to net you a GTA$ 500,000 bonus and a randomly selected log-in reward shirt.

Double Bonuses And Money

If you're looking to make extra GTA$ this week, you'll want to stick to the RC Bandito Races that were released in last week's update. RC Bandito Races continue to pay out double RP and GTA$ this week. Additionally, if you feel like you need a little more action in your life, you can always take on the Trading Places (Remix) Adversary Mode, also offering double rewards.
If you have jumped into Nightclub business, you'll find that Nightclubs have a 2X boost in popularity this week from Nightclub Management missions and Nightclub income is also doubled in the same time frame. Nightclubs, renovations, garages, warehouses and DJs are all 30% off, meaning you need less starting capital to boot up your venue. Nightclubs are not only a source of passive income, but Nightclub warehouses completely change the game when it comes to other businesses, and allow you to vastly increase the rate at which you earn GTA$ with less effort.

Discounts On Some Vehicles

If all the above is not enough for you, there are a few cool cars for sale as well. They currently on sale are as follows:

Pegassi Oppressor Mk II – 25 percent off
Benefactor Terrorbyte – 35 percent off
Benefactor Terrorbyte Add-Ons and Renovations – 30 percent off
Annis ZR380 – 25 percent off
MTL Cerberus – 25 percent off
HVY Menacer – 35 percent off
B-11 Strikeforce – 35 percent off

So, if you wanna add one of the to your car collection, come and buy Cheap GTA 5 Money and Cheap GTA 5 Boosting at 5mmo.com, where you can enjoy the cheapest price online and fast delivery. Moreover, with coupon code "5MMO", you can enjoy up to 3% off. So, don't miss out!