Although most players in GTA Online are level 100+ millionaires, there are still
a lot of players below level 50 who are financially challenged
, so I'm making this guide to help them out. The following are a couple steps you need to follow
to accumulate a massive fortune
in GTA Online.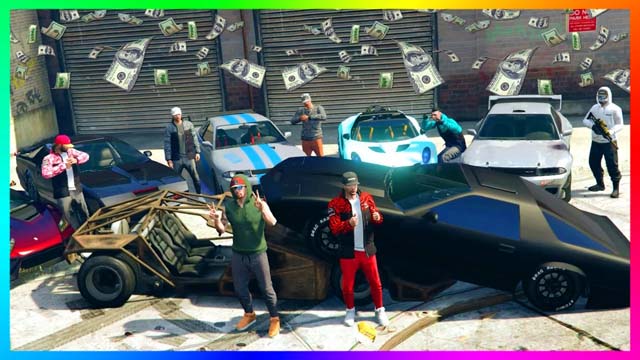 Step 1: First thing's first, you need money to make money, and to get the ball rolling, you'll need at least $200,000, be at least a level 12, have a garage, and have a relatively fast car. If you don't have a car or yours is kinda slow, you can look up where to find a Felon, F620, or Jackal driving about and take one to the shop to make it yours. Trust me, you will need a speedy car. Another thing you'll want to do is get a garage, my recommendation being Unit 124 Popular St. for $25,000 if you're just starting out. You can buy it if you're at least a level 5 from your phone.

Step 2: Once you've got $200,000, buy the cheapest High-End apartment,the Del Perro Heights apartment 7 (an extra $5,000 will get you apartment 20, an identical apartment but with a better view from the windows). If you're a level 12 and you have this apartment (or any other high-end apartment), you'll be open to leading Heists. These are a great way to get paid. If you have enough friends or find some competent randos (though you can also find Heist members on r/HeistTeams), you could literally complete a Heist in a day. Plus, Heists will unlock vehicles like the Armoured Kuruma and the Insurgent.

Step 3: Saver Do more VIP Work, do the Fleeca Job with the apartment, and use your garage to store Ballers and Felons. You can sell them for 9k, every 48 minutes. Grind to about 1.3m. AT THIS POINT, SAVE all your money till step 7. drive a cheap car from the street even if you have millions.

Self-Employment Buy the cheapest Office, the Maze Bank West. And get the cheap 250k 16 crate warehouse alongside. Look up a guide to create solo public lobbies on whatever platforms you play, and get crackin'. Buy 2 crates every time, and fill the warehouse (8 runs). Do a quick VIP Job between the cooldowns to make up for crate costs, and to make some extra bucks.

Step 4: Business Owner Once you have 1.5m, which isn't far-fetched, buy yourself the cheapest Vehicle Warehouse. Source vehicles, only sell top end ones (Once you get all the Standard and Mid Range ones, the game will only make you source Top End ones). Then save up about 3m.

Step 5: Baby Investor With the 3m, buy the Route 68 Bunker (it's closer to other businesses, for convenience). Put the Equipment and Staff upgrade. Then buy supplies for your Bunker, and continue sourcing and selling Top End cars. Keep in mind, you need to buy supplies every 2hrs till the product is full. (Takes about 11hrs, spent in the game to fill the Bunker. When buying supplies for a full bunker, it will cost 350k. But you will get 1.05m when selling).

Step 6: Expanding Investor Now, making money is easy. But save it ALL to buy the Cocaine Business, with Equipment and Staff Upgrade. Buy supplies for both Coke and Bunker, grind Vehicle Cargo. Repeat, then buy Methamphetamine business. Repeat, and buy Counterfeit Cash business. Buy supplies, and go AFK in a solo public lobby. Sell each 2 hours for about 700k total. 400k PROFIT. In 2 hours of being AFK! Or instead of going AFK, grind Vehicle Cargo. Also, make sure to have a buddy or two to help you :P. Getting a bud isn't too difficult in a game with a huge player base, believe me.

Step 7: Top 1% Now, bruh, you are among the wealthiest men of San Andreas. You can afford pretty much anything in the span of 4 hours of AFK'ing and 30 mins of delivery. However, if you don't mind spending money in game, why not come to 5mmo.com for Cheap GTA 5 Money and Cheap GTA 5 Boosting. This is the fastest and easiest way to earn money. Once you make an order, we'll deliver in-game currency to you immediately. So, don't miss out!