To celebrate new year 2019, MapleStory 2 has been updated with the second phase of the Skybound Expansion to give Maplers the mood, bringing with it new quests in the Sky Fortress area. Phase two officially launched on January 10 and last until January 30. You can check the launch trailer below to have a look at what's new in store in the Skybound expansion phase two.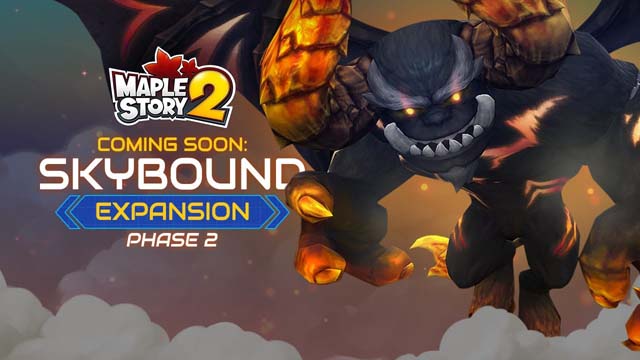 Skybound Expansion Phase Two

With the update, the Fortress Rumble Dungeon is introduced. "Players who reach the 'Trusted' reputation can enter 5 types of single-player dungeons." by completing those dungeons, players can receive rewards including Legendary weapons and armor, which can be obtained through rank rewards.

Additionally, The update also brings the incredibly challenging Wrath of Infernog Chaos Raid, which promises to be "incredibly challenging." Players can enter when they earn the "Alliance Soldier" Trophy and have reached at minimum level 50 with a 9,000 gear score. Players who complete this dungeon will have the opportunity to obtain Pluto's accessory set: the very first Legendary accessories in the game. You can buy Cheap MapleStory 2 Mesos at 5mmo.com, where you can enjoy the cheapest price online by using the code "5MMO" for a 3% discount.

If you're not up to that point in the game yet, though, there will still be plenty of new and shiny additions for you to play with come January 10. The housing interface will get an overhaul with the Skybound update, and there will be three events running from launch day to January 31. the following list are further details of the three events:

Infernog Expedition Support: Players level 10 and above can obtain Expedition Commemorative Coins based on cumulative login time.

2019 Lucky Pouch: Players level 10 and above can complete various quests to obtain a Lucky Pouch, and additionally can earn rewards by opening specific numbers of Lucky Pouches.

Hide-and-Seek Hijinks: Players level 10 and above must complete 16 various quests based on the corresponding NPCs. Players who complete quests will obtain rewards. Players who became "Friend of the Day" and contributed to the quest condition check will get a buff.

Skybound Expansion Phase One

Skybound expansion Phase 1 of the Skybound Expansion was released in December. It introduces a massive, flying warship to the Kingdom of Tria, accessible to any player who has reached Level 50 (introduced in a quest called "After the Attack on Tria").

Aboard the Sky Fortress, players encounter four factions united in the Maple Alliance. It's the Maple Alliance you'll need to impress if you want to participate in the Wrath of Infernog Chaos Raid, which requires a "Trusted" reputation. Each faction offers daily and weekly missions across all of Maple World, which can be accessed via fast travel on the Sky Fortress Bridge's Sortie map.

Additionally, phase 1 introduces new class, Soul Binde. The Soul Binder is powerful in both magical attack and defense, with ranged attack spells like Concussion Orb and Radiant Salvo paired with advanced healing spells like Font of Renewal.