Chiller Grenade And Major Streamer Mode Change Are Coming To Fortnite in Patch V.7.30
As Fortnite Ice Storm Event is coming to a close, Patch Notes V7.30 is soon coming with a bunch of new changes and additions. So, it's your last chance to complete Fortnite's ongoing Ice Storm challenges before the world event officially wraps up. The new patch v.7.30 looks set to introduce another new weapon and more to the battle royale game. Here's a first peek at what might in store in patch v.7.30.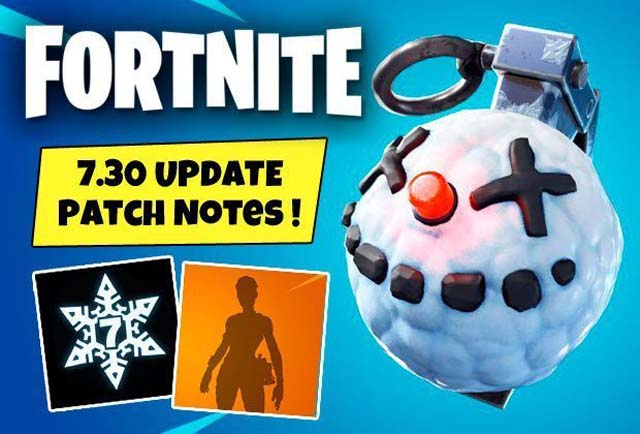 Early before, Epic Games has confirmed on its official Twitter account that the patch v.7.30 is scheduled to begin at 1 AM PT / 4 AM ET / 9 AM GMT. That's when the Ice Storm Challenges end also and we (thankfully) will no longer have to fight Ice Legion monsters. To give Fortnite fans a peek at what's new in patch v7.30, the game developer release an image of new weapon, named Chiller Grenade, with a description reading "Give your enemies cold feet with this winter blast!"

New Weapon: The Chiller Grenade

The Clinger grenade was vaulted at the start of season seven, and the Quad Launcher was recently retired, too—so players who like to deal explosive damage are probably happy to see that this item is coming soon. As the description reads, it seems as if the weapon won't necessarily inflict any actual damage on opponents, but will freeze them in place instead so as to let one blast them with one of the title's myriad guns. So, it's possible the Chiller Grenade operates like its trap equivalent, giving people slippery ice blocks on their feet. Another possibility is that the grenade freezes enemy players in place, freezing them to the ground. This would be similar to the Boogie Bomb which makes players dance in place for a few seconds.

The Common Grenade in Fortnite deals 100 damage to players, 375 damage to structure, and can be held in a maximum stack of 10. It'll be interesting to see how those numbers compare to the Chiller Grenade once it's officially in the game. For higher rank in Fortnite Battle Royale, come and buy Cheap Fortnite Top Up V-Bucks at 5mmo.com, where you can enjoy the cheapest price online by using the code "5MMO" for a 3% discount.
Major Change to Fortnite Streamer Mode

Aside from the addition of a new explosive weapon, patch v7.30 also features some upcoming change to Streamer Mode in Fortnite Battle Royale to crack down stream sniping. "stream sniping" refers to the act of deliberately trying to join the same match as someone who is live-streaming in order to mess with their gaming experience. At the moment, Fortnite is taking measures by making the the names of the streamer and everyone else in the match anonymous in the elimination feed to prevent stream sniping. However, that has not stopped some of the more advanced stream snipers, so now the game developer decides to take some new measures. It seems that Streamer Mode will soon feature two different options - "Anonymous" and "Hide Other Players' Names." to further solve this issue.

Anonymous: Allows you as the player to appear anonymous but everybody else in your game still appears as normal ( This is similar to how Stream Mode currently works.)
Hide Other Players' Names: All other players appear annoymous and will be named something like " Player 96". This option will help prevent stream sniping.

Players will be able to enable both of these options at the same time in order to avoid stream snipers as much as possible.