Prisoner skin is one of the top and decent skins in Fortnite and is now available from the Snowfall Challenges in the game. While, the Prisoner Skin is a Legendary Skin, and like all Legendary skins should have many stages to it. There are totally 4 stages for the Prisoner Skin. So, in this Prisoner Skin Guide, we will help you locate all of the items you will need to find to unlock the full skin.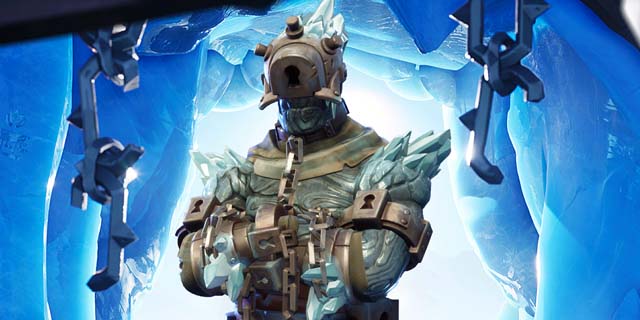 Stage 1 (Default): Complete 60 Challenges in Season 7

The first stage is just the standard skin itself. You'll need to complete 60 challenges over the course of Season 7 to unlock it. You need to unlock the skin before you can go and grab the other stages of the skin. If you are still unable to unlock the snowfall skin and wanna level up quickly, come to 5mmo.com for Cheap Fortnite Top Up V-Bucks. Not only do we offer the cheapest price online,but also provide fast delivery. Moreover, with coupon code "5MMO", you can enjoy additional 3% off.

Stage 2: Find the Key

When you have unlocked the default Prisoner Skin, you will have to locate a key to get that annoying padlock over your head. In order to do so, jump into a match with the default prisoner skin equipped and head over to the castle at the Polar Peak.

Once you have made your way to the castle, head up to the top floor where you will find a large fireplace and a couple of desks up against the walls.

Approach the desk by the west wall of the room and a key will appear, which you can interact with to collect. Upon finishing the round, Stage 2 should be available to equip.

Stage 3: Head to Desert Biome Campfire

To unlock stage three, however, you'll need to interact with a Foraged Campfire near Paradise Palms. This campfire can be found on the hill north of Paradise Palms. Make sure you're wearing both The Prisoner skin and the Padlock back bling in order to unlock stage three. Simply land on this hill and interact with the campfire to acquire the latest stage of The Prisoner skin.

Stage 4: Still unknown

Stage 3 is not the final stage of the skin, and there's still a Stage 4. however, Stage 3 is as far as players have been able to progress now, and it's expected that Stage 4 will not be available until Thursday, February 14. Unfortunately, there is no way for people to unlock it early, too.

The final update for Season 7, v7.40, will be dropping on Wednesday, February 13, a day later than expected, and will probably play a crucial role in Stage 4 becoming available.

Since the 7.30 update added campfires, which were needed for Stage 3, so we can guess that new item or location will be potentially updated in the 7.40 update which is required for Stage 4 too.

Once the update goes live, we will have more details on exactly where you will need to go and what you will need to do, to unlock the final stage, before Season 8 starts. So, stay tuned for 5mmo.com.