Arena Of Valor Ultimate Arcana Guide: How Arana Works And What Arcana Should You Buy
Just like most MOBAs, the arcana plays a extremely important role in Arena Of Valor as well. It affects your heroes way too much and it can become game changing for you and your team. As you level up higher in the game, you will unlock more arcanas. In this arcane guide, we'll be walking you through how the arcana system work in Arena Of Valor and which arcana should you buy for both beginners and experiencers.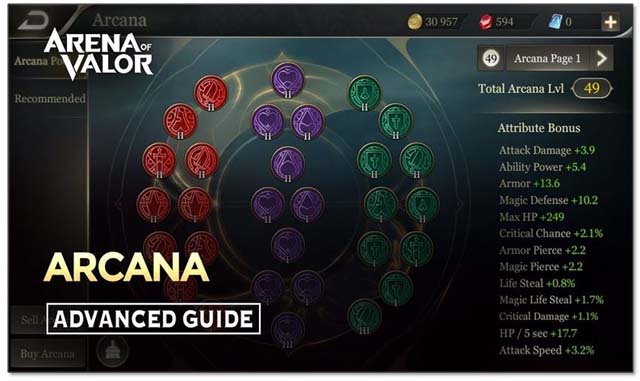 How Does The Arcana System Work in Arena Of Valor?

To find your arenas, just tap the left side of the main menu. At beginning of the game, you'll have access to two Arcana pages. A complete Arcana page would be equivalent to 1.5 item which grant you powerful boost and huge advantages against your enemies. Each time you level up you gain access to one more Arcana slot, and once you hit level 30 you'll have all 30 slots, 10 of each type. There are three kinds of colors: red, blue and purple. Each color features different Arcana power-ups you can put in those slots. You can see the stats associated with the different colors of Arcana in the video above.

What Is Arcana Used For?

Like we've mentioned before, arenas can grant you powerful boost to your Heroes. For example, 10 level III AD Arcana provide +32 AD which you have the second your character loads into the game. Add in 10 level III AD and movement speed Arcana mentioned previously and you're up to +48 AD. As you can see, the bonus from Arcanas is really huge compared with some other MOBAs out there currently.

Which Arcana Should You Buy?

Since you are able to unlock all Arcanas slot at level 30, so the only Arcana you should be buying are level III. You can buy arena with gold, the in-game currency. With your attention, you can't gain gold with real-world money.

There's no perfect arena, providing you're building towards some kind of focus. A mish-mash of all sorts of different Arcana in every slot really isn't going to do you much good as each individual bonus will be so slight that overall it won't amount to anything.
It's really important to get your full level 3 Arcanas as soon as possible, especially if you haven't already. Arcanas can really affect one's gameplay either in the jungle or the lane. Additionally, buying heroes and/or Magic Crystals with vouchers if you are willing to spend, it would help complete your full Arcanas Page as well. If you are lack of enough vouchers, come to 5mmo.com for Cheap Arena Of Valor Vouchers. As one of top online in-game currency store, we offer both the cheapest online price, along with fast delivery. Moreover, you can enjoy additional 3% off with coupon code "5MMO" at our website. So, have a try.