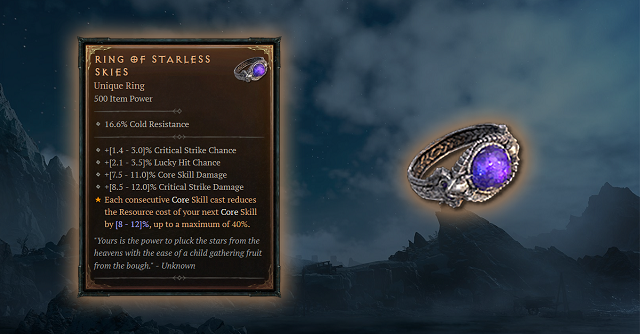 When players explore the dungeons or complete quests in Diablo 4, they expect to find rare items or gears as rewards. Rare and powerful items are good accessories for characters, which improve their stats well. One of the rarest items in Diablo 4 is the Ring of Starless Skies. Do you want to know how to find this rare item in Diablo 4? You can read this article for guidance. Players can use
Cheap D4 Gold
to gather rare materials for building the best gears in the game.
What's the Ring of Starless Skies in Diablo 4?
Ring of Starless Skies is a Unique Ring in Diablo 4. Ring of Starless Skies can be equipped by all Classes and has unique modifiers that greatly increase the player capabilities. Unique Rings are considered the pinnacle of Ring gear, offering some of the most powerful bonuses available in the game. They are rare and highly sought-after items that can greatly enhance a player's character build and playstyle. Unique rings have better stats than other rings, including increased damage, defense, resistances, and critical hit chance.
How to Find the Ring of Starless Skies in Diablo 4
Unique items like the Ring of Starless Skies in Diablo 4 cannot be guaranteed drops, and instead drop randomly throughout the game world when you defeat enemies, open chests, or destroy items.
In the case of the Ring of Starless Skies, there are also a number of requirements that must be met.
Firstly, the Ring of Starless Skies is a unique item that only drops in World Tier 4, specifically from enemies level 85 or higher. While World Tier 3 provides some unique drops, the Ring of Starless Skies is excluded from the drop pool.
If you're in World Tier 4 and are looking to maximize your chances of seeing this item drop, you should first ensure you are level 82 or higher, as that will result in level 85 enemies spawning. If you are level 85 yourself, then all enemies will be at the required level.
I recommend then focusing on aspects of the game that provide a wide array of elite enemies to defeat. Helltide events are a great option, particularly as you can use Abherrant Cinders to get even more gear, but Nightmare Dungeons with a high number of elite enemies are probably better in this case.
That is because the chests you encounter during Helltide events and from event rewards cannot contain the Ring of Starless Skies, as it has been confirmed that this item only drops when you defeat an enemy.
The Ring of Starless Skies Stats in Diablo 4
Here are the stats for the Ring of Starless Skies:
820 Item power
25.0% Cold resistance
25.0% Fire resistance
+3.8% Lucky Hit chance
+3.4% Critical strike chance
+19.5% Critical strike damage
+13.5% Core skill damage
Each consecutive core skill cast reduces the resource cost of your next core skill by 8% [8-12]%, up to a maximum of 40%
With the Ring of Starless Skies, your core skills could end up costing almost half the resource, meaning you can fire more of them into hordes of enemies and slay your way through Sanctuary even more effectively.
Players who want to get the Ring of Starless Skies in Diablo 4, you can follow the guidance and try to complete more dungeon quests in the game. And you will have more access to obtain this rare item. You can
Buy Diablo 4 Gold
to upgrade your character quickly and reach high level dungeon requirements early.