Fallout 76 - Legendary Vendor The Purveyor Explained, Where to Find The Legendary Vendor and How to Farm Legendary Scrip
In the most recent update 9 for Fallout 76, Bethesda introduces
a new vendor, the Purveyor,
the first organic NPC that isn't outright hostile in Fallout 76.
Purveyor will be a high-end vendor, which allows players to exchange any Legendary items or "Legendary Scrip"; a new in-game currency.
So, how will this new vendor Purveyor work? Where to find Legendary vendor Purveyor? How to farm the new Legendary Scrip? Here in this Fallout 76 guide, we'll cover all of these questions to you.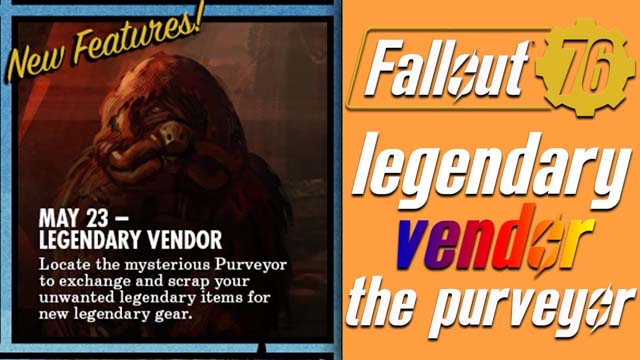 How the Fallout 76 Purveyor Will Work?
The Fallout 76 Purveyor merchant is a new and invaluable vendor for high-level players, as she She only deals in legendary items. Here's the official description from Bethesda:
"The Purveyor is no ordinary vendor. She only deals in legendary items, and only accepts a unique currency, called Legendary Scrip, as payment."
"The Purveyor has a vast collection of legendary items at her disposal, and will allow you to choose whether you'd like to buy armour, melee weapons, or ranged weapons. You will also be able to pick whether your item will have one, two, or three legendary attributes."
"However, she doesn't allow buyers to haggle over the exact details of an item and instead will select its legendary attributes at the time of purchase. This means that while you will always receive an item that fits the type and star-rating you've selected, its attributes will be decided at random."
Where to find the Fallout 76 Purveyor?
So, if you have unwanted or unneeded legendary items and wanna exchange them for Scrip?
Where to find Purveryor? Well, you need to head for the Berkeley Springs Train Station where the Purveyor's shop is located.
How to farm Legendary Scrip Currency?
Once Patch 9 is live, you will be able to find Legendary Exchange Machines at Train Stations around Appalachia. Once you build a Vending Machine,you can use it to break down your unwanted legendary items and turn them into Scrip.
Load up your inventory with the legendary items you no longer want to keep, place them in the machine, and then collect your Scrip. The higher the star-rating of your legendary items, the more Scrip you will receive. The more Legendary Scrip you have when the Purveyor arrives, the more legendary weapons and armor you will be able to buy!
The Fallout 76 Purveyor merchant was set to arrive in the game on the 16
th
in Patch 9! Until then the legendary scrip currency will be vital when the Fallout 76 Purveyor sets up shop in Appalachia.
Now you know everyhting about the new legendary vendor. And if you don't have enough time to play Fallout 76 and earn bottle caps,
5mmo.com
provides
Cheap Fallout 76 Bottle Caps
for you. For more news and guides on Fallout 76, stay tuned to 5mmo.com.