FIFA 19 Ultimate Team of The Week 4 Player Cards Are Out Now, Optimizing Your Team Roster
The latest FIFA 19 Ultimate Team of the Week
revealed a powerful and talented bunch of players on Wednesday. A total of 23 new players was revealed for their latest FIFA 19 Team of the Week and all of their overall rating are above 81. among them, well-known
Paris Saint-Germain star Kylian Mbappe
leads the way, with Inter Milan's Mauro Icardi, and Lazio's Ciro Immobile also on the squad. All of them have received stats boosts based on their excellent performance from the field.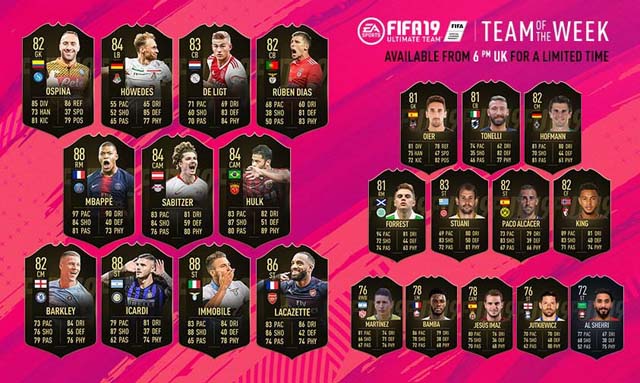 FUT TOTW 4 is set to go live in FIFA 19 at 5 p.m. GMT/10 a.m. PDT on October 10, and will run until October 17. It shines a spotlight on the very best players from matches over the last week. It features such greats as Mbappe, Milan's Mauro Icardi, and Lazio's Ciro Immobile.
Each week of the season, EA reveals their latest FIFA 19 Team of the Week (TOTW). The team is based on "real life" performances the players put in during their actual games. Based on EA's decisions, they build a team of worthy players who each get a ratings boosts. These teams feature starters, substitutes, and reserves like others teams in the game. There are 11 starters, 7 Subs, and 5 reserves, with each player receiving a stat boost over their standard card form. The FIFA 19 Team of the Week lineup refreshes at 5PM GMT/ 10AM PDT every Wednesday. Before it release, many football fans would wonder which player would come with stats boost. You can check the following video for the prediction for week 4. So far, there have been four different TOTWs revealed at the EA Sports site.
The reason you want to keep an eye on these TOTW releases, is that the players receive stat boosts. These stat boosted versions are introduced into packs and then onto the transfer market. Standard cards do not receive a boost, so picking up these TOTW cards can be a really great perk to have in your squad.
In addition to collecting stat boosted versions of the best players in the world of football, players can also participate a unique Squad Battle in the form of the TOTW Challenge. It's pretty straightforward, tasking players with taking on the active Team of the Week, but there are some pretty great rewards to be had.
Now that you know which players will be available as part of FUT 19 TOTW 4, you'll need to know how to get them. Before buying it, you have to save enough coins. The most common and easy way to Earn Fut coins is to play competitions - FIFA 19 Squad Battles, World Cup, Division Rivals. You can also make money from FIFA 19 Web App. Another easy way to make coins is to come to our website:
5mmo.com
, where you can use the code "
5MMO
" for a 3% discount. The TOTW player cards are distributed into card packs, so you'll need to buy packs and hope that you'll get one.For the week that a player is featured in TOTW, their standard form will not be available to pick up from packs. Once again, buy
Cheap FIFA 19 Coins
at our website. You can also head to the transfer market to purchase TOTW player cards. They tend to be pretty expensive, but are sometimes worth it for the associated stat bonuses.