Forza Horizon 4, the eagerly anticipated return to the Horizon festival, is released on the Xbox One and Windows 10 on October 2. along with it, the game's full achievement list which which contains
55 achievements for 1,000 Gamerscore
has also been released now.The game's 55 achievements once again offer a varied list that will encourage players to take part in many of Horizon 4's various game modes, with particular attention paid to some of the new features such as seasons. You can check the following video for the all achievements. In this article, we provide a simple guide for one of the achievement,
Antique Restore
r which requires players to restore and find
15 Barn Finds
.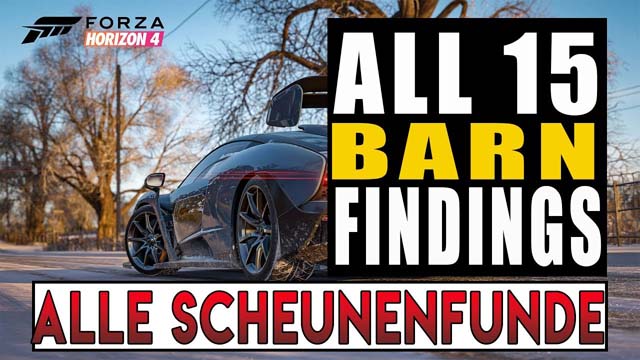 In order to get the achievement for getting all 15 barn finds, you'll need to:
a) Play during all four seasons during Horizon Roster (so you need to complete initial tutorial with all four seasons depending on your influence)
b) Spend significant amount of money (10,000,000 CR) to buy Bamburgh Castle. You can find it on the east coast. This will give you barn find rumor. You can buy
Cheap Forza Horizon 4 Credits
at our website:
5mmo.com
, a cheap online in-game currency store.
10 barn finds are regular. You'll get them during your normal drifting, racing and doing stunts so don't focus on them. The following is a full list of the ten cars from the ten barn finds.
1)1961 Jaguar E-Type S1
2)1993 Jaguar XJ220
3) 1965 Mini Cooper S
4) 1997 Lotus Elise GT1:5) 1983 Audi Sport Quattro
6) 1998 Subaru Impreza 22B STI
7) 1962 Triumph Spitfire
8) 1986 Ford Escort RS Turbo
9) 1998 TVR Cerbera Speed 12
10) 1966 MG MGB GT
To unlock more rare cars, you can come to
5mmo.com
, where you can get Forza Horizon credits for a cheap price. As you enter Horizon Roster (you should be around level 20) you'll get your first seasonal barn find rumor. They can be distinguished by different colour of circumference and small icons showing what season they are from. Make sure you unlock them immediately. After the season has passed, you'll need to wait 3 more weeks until the whole process is repeated. For example, winter barn find can be found on small island in the middle of the lake so you won't get there until the lake is frozen. Below you can check the list of cars of seasonal barn finds
11)Summer Season - 1962 Peel P50
12) Autumn Season - 1960 Aston Martin DB4 GT Zagato
13) Winter Season -RANGE ROVER ~ 1973 Land Rover
14) Spring Season - GT40 MKI ~ 1964 Ford
15) Property - 1930 Bentley Blower
If you are impatient and want to find a found a faster work-around to this achievement if you dont wish to wait for the weekly seasonal change. It requires you to be in OFFLINE mode and a bit of playing around with your Xbox Clock. Disconnect your internet connection. Then after going offline you need to then do a hard reboot. After this you will then be able to manually adjust the clock in System Settings.
After starting the game with the time set to the right season your game will load during the season in relation with your xbox date/time settings. After finding the car, to make sure the game saved. At this point, you can back into Network Settings and go back online, since achievements don' t "track" while in offline mode. Since your achievement tracker won't update until your car has been fully restored, going back online at this point ensures that once the car is ready your achievement tracker (having gone back online) will be able to track it.