First Peek at Madden 20 Player Rating System Challenge and Rookie Premier Program
The upcoming Madden 20 promises a loads of new improvements and adjustments on various aspects to deliver better baseball experience for fans.
With a huge overhaul to Madden 20 player ratings system, there are some changes to the way stars play compared to players who aren't really stars, making the superstar players of the game really stand out this season.
Below, we'll talk about what to expect behind the overhaul and get an early preview of the upcoming
Madden 20 Rookie Premier program
that will carry over to Madden 20.
Madden 20 Player Ratings System Changes
Player Ratings In Madden 20 To Have A Much Bigger Spread. The difference between how an 89 overall player and a 90 overall player is going to be much more pronounced than ever before.
In a recent developer blog the changes were detailed and the results of the changes laid out by the numbers. The biggest shift by far has occurred in players previously rated under 85. That should prove to further accent the league's top-level players.
Our goals for this stretch were to help further the effort of the gameplay team's Superstar and Superstar X-Factor abilities, and to truly make players (even if they don't have abilities) feel different from one another.
To begin that process, we laid out a set of individual goals. To start, we divided players into tiers based on their on-field performance. The tiers, which were a bit rougher than truly defined, were as follows:
♦Elite/near elite players
♦Quality starters
♦Low level starters
♦Backups
♦Low-level backups
By increasing the ratings of the elite/near elite players, and decreasing the ratings of everyone else, the stars began to stand out even more than they did before. We went through every single attribute in the game and stretched them by position. For example, in Madden 19 there were 53 corners with 80 or better Man Coverage. There are 42 in Madden 20. We also raised the ceilings on some of those ratings to further the gap between the elite and the rest.
The biggest changes to the rating system is the re-defination of what is considered "starter quality." In Madden 19, 54% of the roughly 2,900 players (including free agents) were 70 OVR or better. In Madden 20, 41% of the players are at 70 OVR or better, which means that both low-level starters and depth players can be rated in the 60s—and maybe even 50s. From a gameplay perspective, this creates a drastic drop off from starter to backup. This solves a big issue. In previous Maddens, backups were almost plug-and-play if a starter was injured. But now, with the severe drop off in ratings, starters will have a distinct feel, while you will struggle much more with their replacements.
In addition, they also create new overall formulas for every player archetypes and adjust the weights on the existing overall formulas to ensure that players were being labelled correctly and put a greater emphasis on the more impactful ratings per position.
Lastly, the greatest ratings stretch occurred for QB Throw Power, which is paired with the gameplay changes to pass trajectory. Without getting too deep into the pass trajectory mechanics, they lowered the maximum velocity for passes to help add more trajectory to all throw types.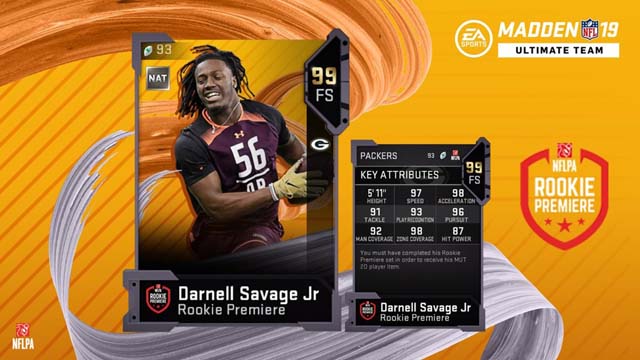 MUT Rookie Premier Preview
With Madden 20 is around the corner, a new Madden Ultimate Team Rookie Premier program kicks off now on Monday (July 1), with more details coming on the EA Madden Twitch channel.
Gamers will be able to complete Rookie Premier sets in Madden 19 Ultimate Team. These sets are exchanged for a 99 OVR NAT player card. Gamers will also get a special version of the player's Rookie Premier card in Madden 20.
There will be a total 10 Rookie Premier players in Madden Ultimate Team with five for offense and five for defense. The Rookie Premier player cards in Madden 20 will have a ratings increase any time there's a new player edition released in the game. That will be in effect all the way through February 2020.
For more news and updates on Madden 20, stay tuned to
5mmo.com
, a professional online in-game currency store for
Cheap Madden NFL 20 Coins
.