Fortnite Buccaneer's Bounty Challenges - How To Complete Them And Unlock The Free Limited Time Rewards
The latest Fortnite patch introduced
a new set of challenges "Buccaneer's Bounty"
as part of the Buccaneer's Bounty Event. The challenges are live now and lasts until April 6. There are a total of four challenges that players will be able to complete, with a new one unlocking daily. By completing completing all four challenges,
players can unlock free rewards including a new emote "Boobytrapped", a new pirate-themed glider and more
. Find out more about the Buccaneer's Bounty rewards and challenges in Fortnite below.
As we mentioned above, there are totally four challenges. At the moment, only the first has been revealed so far, and it's quite simple. The others, however, are still unknown: We'll have to wait one, two, and three more days to uncover the second, third, and fourth challenges.
What is the Buccaneer Day One Challenge and how to complete it?
The first challenge tasks players to "visit a Pirate Camp in different matches". This is pretty straightforward, and Here's a map of every pirate camp
location on the map: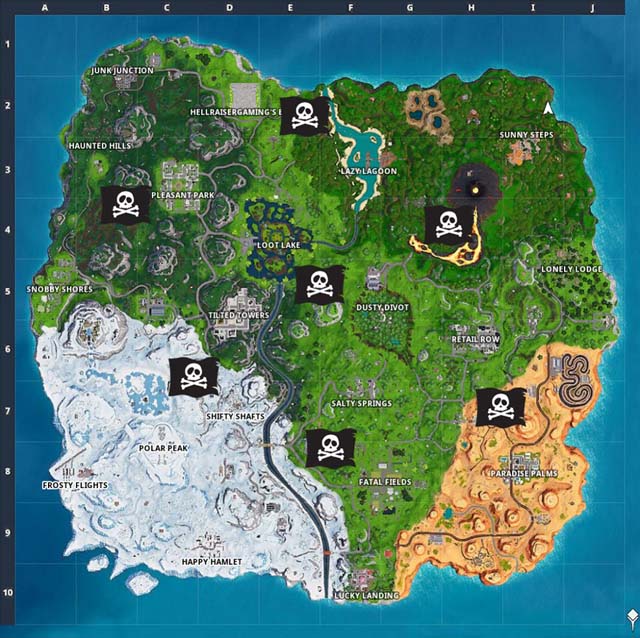 To make you clearer, here's a list of all locations:
On the southwestern slope of the volcano
West of Lazy Lagoon
Slightly northwest of Dusty Divot
Where the old haunted mansion was in between the two mountains east of Pleasant Park
Northeast of the frozen lake
On a tall hill northeast of Fatal Fields
On the desert side of the bridge that connects the desert biome to the "standard" biome
To complete this challenge though, you'll need to visit one in 10 separate games. You can't just visit 10 at once and call it quits.
Although you don't have to land at a Pirate Camp, so you can make your way there later in the game once things have died down if you wish. Once you've complete it, you'll be rewarded with a pirate-themed glider to go along with Season 8's theme.
What about the rest challenges?
The next three challenges will unlock over the next three days, with one unlocking each day. So far, the rest of the challenges have leaked but are not yet unlocked. Here's a full list of all of them:
Challenge 2 - Shoot yourself out of a Pirate Cannon in different matches
Challenge 3 - Search buried treasure
Challenge 4 - Place Top 10 in Squads with a friend
Buccaneer's Bounty Rewards
During the event, players can also unlock sweet rewards for completing each challenge. There are four new items that you can collect during the event for each day. In addition, you'll also receive 1000XP.
The rewards are as follows:
Plunder Glider
Pirate Parrot Spray
Nautical Star Banner
Boobytrapped Emote
Currently, the Fortnite Item Shop are updated with new Buccaneer ans Sea Wolf Skins. If you wanna unlock them and run out of Bucks, you can come to
5mmo.com
for
Cheap Fortnite Top Up V-Bucks
.