Fortnite Item Guide: How to Obtain the Grapple Glove in Fortnite Chapter 4 Season 3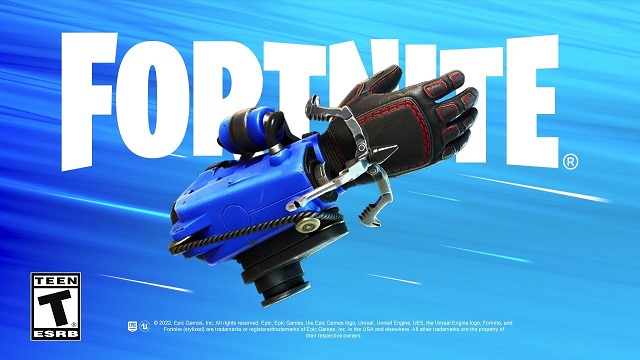 When players are playing Fortnite Chapter 4 Season 3, they are excited about new contents and features in the latest update. While, they find that it is not easy to move freely in the new map. So, the developers bring back the Grapple Glove which allow players to move fast in the wild. Do you know where to find it in Fortnite? You can read this article and learn from the guidance. Players can use
Cheap Fortnite V-BUCKS
to purchase your desirable items and skins for characters.
Where to Find the Grapple Glove in Fortnite
The Grapple Glove is an Epic rarity item, which means it's not a common spawn on the Battle Royale island. In order to get the Grapple Glove in Fortnite, players will either have to find it inside a chest or as floor loot. Considering the large size of the current Fortnite loot pool, it's hard to narrow down the search and make it easier to find.
The Grapple Glove was unvaulted following an unannounced hotfix, and according to information gathered from the patch, gamers have a higher chance of acquiring this item when playing Zero Build mode. In Zero Build mode, when searching chests, players are ten percent more likely to find the Grapple Glove, and five percent more likely to find it as floor loot.
To find any of these Grapple Stops, and the Gloves they contain, head to one of these locations:
Inside Rave Cave
Northwest of Logjam Lumberyard
East of Shifty Shafts
East of The Daily Bugle
East of Tilted Towers
Southwest of Greasy Grove
Northeast of Synapse Station
North of Rocky Reels
South of The Joneses
Northeast of The Joneses
Once you've found one of these bright pink Grapple Stops, look for one of the pink Grapple Glove Toolboxes in or around in the shack at the base of the girder. Search that to get your very own Fortnite Grapple Gloves. You should find three toolboxes at each location, so hopefully you'll find one that hasn't already be looted.
How to Use the Grapple Glove in Fortnite
Equip the Grapple Glove in your inventory, aim at a surface, and press the shoot button to swing forward. You have 30 shots per glove, and there's a slight cooldown after each swing
Swinging around with the Grapple Gloves works almost exactly like the Web-Shooters. You'll target a Grapple point and then use the right trigger to attach and swing to it. You can then easily target the next Grapple point and you'll pick up momentum as you swing from point A to B.
Keep in mind, the Grapple Gloves do have a limited number of uses, so try not to waste them all at once. Sadly, there isn't a way to "reload" the Grapple Glove, so if you run out of uses, you'll have to get your hands on another pair, instead.
One thing you should be aware of is that you have to have a Grapple point to latch onto in order to swing. This might seem obvious, but it's worth mentioning, especially for those who like to venture out into the ocean where there are no tall surfaces to Grapple onto. Though, you'll find the game to be quite lenient for what it considers a Grapple point.
Players can try to find the Grapple Glove in Fortnite and experience the fast moving between trees and buildings. And if you want to unlock nice skins or cosmetics for characters, you can
Buy Fortnite V-BUCKS
to get them directly in the game shop.