Fortnite Rail Gun and Recon Scanner Guide: Where to Find them in Fortnite Chapter 3 Season 2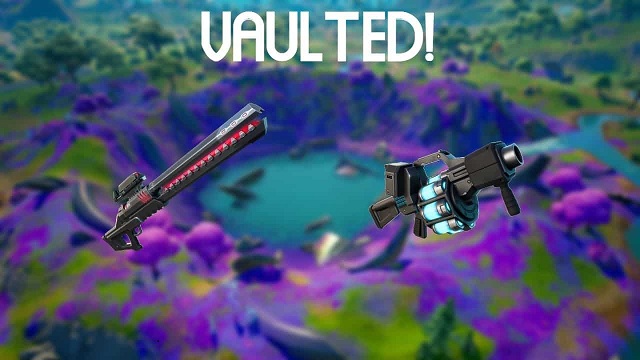 Players have access to get two weapons from Chapter 2 in Fortnite Chapter 3 Season 2. They are the Rail Gun and the Recon Scanner. If you are interested in experiencing these two weapons, you can read this article to learn the guidance about how to get them in the game. You can get
Cheap Fortnite V-BUCKS
to collect some useful materials for crafting items in the matches, and you will take an advantage in the beginning of Fortnite.

Rail Gun and Recon Scanner
The Rail Gun can shoot a powerful laser beam that can be charged up to deliver devastating damage. The Recon Scanner won't help players deal damage to opponents, but it will help players scout for rare loot. Shooting the Recon Scanner's "grenade" will scan the nearby area for chests, players, and other objects, highlighting them on the map for the player to see. This item really comes in handy for quickly scoping out buildings and finding lurking players.
Where to Find Rail Gun and Recon Scanner
The two weapons were formerly created by the Imagined Order but can be found in the standard loot pool. The Rail Gun and the Recon Scanner can be obtained through floor loot, regular chests, and IO chests.
They cannot be purchased from a vending machine, nor can they be found in a Supply Drop. The best place to look for them is arguably in IO chests. They're IO weapons, which means IO chests can drop them, giving those a slightly better chance of dropping one of them.
Additionally, they only come in Rare, Epic, and Legendary rarities. Both of these guns are good and will be challenging to find.
The Recon Scanner fires a projectile that attaches to whatever it touches and scans the area repeatedly for containers and enemies within its radius. It's meant to be used almost exclusively as a reconnaissance tool, as it only deals 5 damage per shot, making it almost completely useless for offensive purposes.
The Rail Gun and Recon Scanner have been unvaulted, and as a result, they can be found all over the map inside chests or as ground loot. To improve your chances of finding them, land in hotspot POIs with lots of buildings, where you will find more chests. POIs under the control of the IO are also good locations to find these items. A fun tip—trying smashing up the foundations of a building with a IO Tank or the Battle Bus. This will make the building disappear and drop all the loot inside it on the ground.
Rail Gun Recon Quests List
Mark enemy players using the Recon Scanner
Get a headshot with the Railgun
Deal damage from 50 or more meters with the Railgun
Deal damage to an opponent within 30 seconds of scanning them
Deal damage to opponents with the Railgun
When you find the location of Rail Gun or Recon Scanner in Fortnite, you can try to complete relevant quests to earn more XP for level up your Battle Pass in the game, which will reward you some good skins or items. Since this Season is coming to an end very soon, players are getting new quests so that they can collect as many experience points as possible before the Battle Pass becomes unavailable on June 3, 2022.
If you want to unlock more good weapons in Fortnite, you can
Buy Fortnite V-BUCKS
to select them in the shop and choose the best ones for your character.