Fortnite Resistance Quests Guide: How to Complete Tasks Destroy Trash Around Sanctuary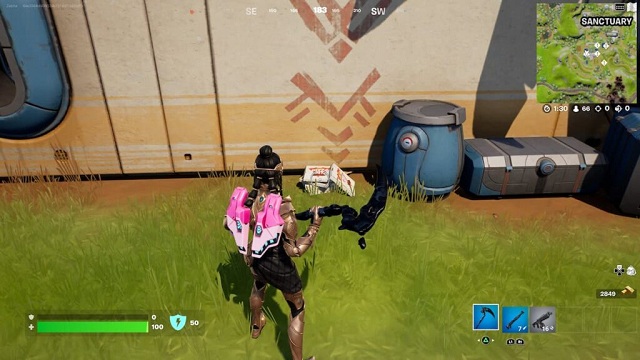 The coming of the second stage of the Resistance Quests in Week 8 reminds players to finish relevant quests in Fortnite. One of these tasks is Destroying Trash Laying Around Sanctuary. Although this task is not complex to complete, you should know the right route to complete this task and get the rewards quickly. Players are willing to play characters with attractive skins in the match, so it is essential for you to purchase
Cheap Fortnite V-BUCKS
from 5mmo.com.

How to Complete Destroy Trash Around Sanctuary
Destroying trash lying around Sanctuary is one of the missions that's rewarding up to 23,000 XP upon its completion. In order to complete this quest, players have to destroy a total of eight pieces of trash scattered around the Sanctuary. The trash is none other than the white Pizza boxes that Fortnite guests threw after the resistance party.
When you select your quest in your menu, it will reveal two different areas where you can find trash at Sanctuary. The southern area is around the buildings and ponds, and the northern region is more wooded. Once you navigate to these locations, you can look at your radar to see specific spots for the trash, symbolized by an exclamation point.
Once Fortnite fans have established a Device Uplink at either of the designated locations, Jones will call the player, telling them that it is their job to clean up the trash left behind the Resistance's party. Accordingly, combatants must travel from The Daily Bugle or The Joneses to Sanctuary, a landmark located between the two, south of Paradoxical Ruins. Once players arrive at the quest's location, several new icons will appear on their minimap, indicating where to go next.
Sanctuary Trash in Fortnite appears as pizza boxes lying on the ground in random locations. Each node of trash can look slightly different. Some nodes will be a single box, and others will be multiple boxes stacked atop each other. Nonetheless, they all will have a cloud of stench and a swarm of flies hovering over them, with the flies making an audible buzzing noise. As repulsive as it might sound, the buzzing of the flies is what players will need to utilize to help locate where each trash pile is. While the icons appear accurately on the map, sometimes it can be tricky to find the small pizza boxes hidden throughout the environment.
You need eight of these in total, so listen closely to hear the sound of flies. Make sure you keep your eyes peeled under bushes and in corners outside the buildings and use your radar to detect other nearby boxes. Once you destroy all eight, you will trigger the audio recording confirming that you completed the quest.
To complete this quest in its entirety, you'll need to make your way over to Sanctuary and find eight pieces of trash that you'll need to destroy. As per the norm with these kinds of quests, you'll need to make sure that you're stocked up on weapons and items, as there are plenty of players that are going to be trying to take you out. Since this quest does take a bit longer than most of the challenges, you'll be out in the open for longer than ever before.
Players are willing to complete different kinds of tasks in order to get more XP, Skin, Items Rewards in Fortnite. If you have got the guidance of tasks in advance, they may help you a lot in the process of tasks to save a lot of repeat routes. And if you are looking for some rare skins of Fortnite, you can choose to
Buy Fortnite V-BUCKS
on 5mmo.com, there are some good sellers in cheap prices.