Skins, or costumes,
are a highly desired item in any multiplayer game, so does Fortnite. Fortnite Season 8 has been upon on us for nearly 4 weeks. The latest Fortnite Season 8 Week 4 Challenges are now available. You can check our previous Fortnite Season 8 Week 4 Challenge guide at our website:
5mmo.com
to find how to complete each of them and find the secret banner. Fortnite Season 8 brings us a set of new skins for fun. Today, in this article, we've listed
all the new skins in Fortnite Season 8.
Here are all the new skins featured in Fortnite Season 8. If you can't wait to unlock those best skins for your in-game character, come to
5mmo.com
for
Cheap Fortnite Top Up V-Bucks
, where you can enjoy the cheapest price online,along with fast delivery. Moreover, with a coupon code "
5MMO
", you can enjoy 3% off.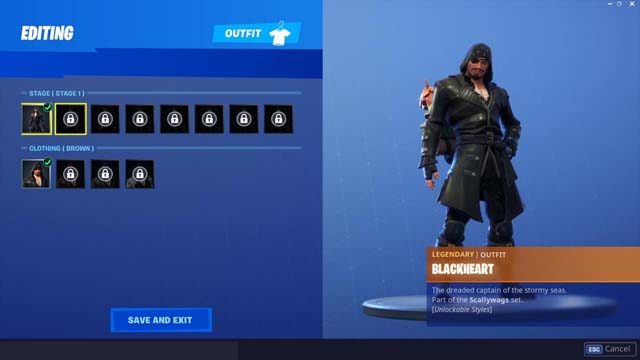 Blackheart
Blackheart is one of the progressive skins you will receive when you get the Season 8 Battle Pass! Many players get to see him in the week 1 loading screen, Starting off looking as a regular pirate, he will turn into an unearthly ghost pirate as you unlock his skin styles! There are totally 8 styles of the skin to unlock. There are multiple colors for both his base and final forms you can unlock in addition to the different tiers as well.
Hybrid
Hybrid is one of the Legendary tier 1 skins from the Season 8 Battle Pass. It represents a pretty traditional ninja of the Fire King, but under the clothes hides the dragon-like creature! This skin has four different stages and four different colors for the clothing and the dragon. His unlockable style has him slowly breaking out of his ninja garb and turning into a fully-fledged lizard.
Sidewinder
Sidewinder is a Epic Fortnite Outfit from the Snakepit set. The skin appears to be a sort of take on a female Indiana Jones. Fornite fans can unlock Sidewinder, if they buy Fortnite Season 8 Battle Pass Bundle. There's nothing special about this skin, honestly.
Peely
This is one of the most interesting skin ever in Fortnite. Once you unlock and equip the Peely Outfit in Fortnite, you will be running around the Fortnite map as a giant banana. What's more, you will begin the game as a green banana, only for the outfit to ripen as the match goes on. Wonder if you'll end up covered in bruises and brown spots, too? While the Banana Skin is no doubt hilarious, it'll also ensure that you stand out on the battlefield and you might just be a far easier target. Worth it, though.
Ember
Ember is a Epic Fortnite Outfit from the Ashen Guard set. She is literally a fiery dark elf, and she might be part of the Fire King's crew in some capacity in Fortnite Season 8.
Master Key
Master Key is a Epic Fortnite Outfit from the Key Force set. At At tier 87 you can get access to the Master Key, who is looks like grown-up Naruto. And then at tier 99 you unlock his tiger mask, which has been seen in promotional materials for season 8.
Luxe
Luxe is the Legendary tier 100 skin in the Fortnite Season 8 Battle Pass. She has four different color options, and completing her challenges will unlock you a pickaxe, back bling, and emote.
To unlock her stages and other cosmetics you will need to outlast your opponents. By outlasting 500 you will unlock the Flawless pickaxe, 2,500 will get you the High Caliber back bling, and 15,000 unlocks the Fierce emote. You unlock stages at 1,000 (white), 7,500 (black), and 25,000 (gold).