There are three kind of currencies in The Division 2:
The Division 2 Credits, Premium Credits, and Phoenix Credits
. The credits is the main currency in the game, which are used for various cosmetics items in the game. You can buy
Cheap The Division 2 Credits
right from our website:
5mmo.com
with the cheapest price online. When a player reaches max rank with a character, a special currency called Phoenix Credits will become available. Today, in this The Division 3 Guide, we'll be focusing on Phoenix Credits, with which players can spend on weapons, mods, accessories, or gear that have both level 30 Agent and level 50 Dark Zone requirements on them in the game. So, study below to learn what Phoenix Credits are, where to spend them, and details on how to earn them while playing.
What Is The Division 2 Phoenix Credits?
Phoenix Credits are an end-game currency that can only be acquired upon achieving Rank 30. Certain vendors inside and outside of the Dark Zone that require these to purchase certain high-end items they have available, like keys, gear and weapons.
How To Earn The Division 2 Phoenix Credits Fast?
Fortunately, there is a wide variety of ways to earn Phoenix Credits in The Division 2. Now let's dive in all the ways available in the game.
Method 1: Daily Missions (Hard)
Challenging Missions are The Division's toughest challenges since launch. But it is worth the risk since they offer the best rewards. Completing the Daily Challenging Mission will earn you 45 Phoenix Credits, plus gold crafting materials and gold gear item. Moreover, you can do the Mission repetitedly for additional Phoenix Credits and additional Gold Gear. However, you can only earn 30 Phoenix Credits in subsequent playthroughs. In a world, this is a good way to accumulate multiple Phoenix Credits quickly in the game.
Method 2: Daily Missions (Challenging) or Challenging Missions
Certain Daily Missions will also have a Challenging difficulty rating. Completing Daily Missions on this higher difficulty rating rewards players with additional Phoenix Credits, along with the Phoenix Credits that would normally be earned for completing the Daily itself. Each Challenging Mission will rewards you 45 Phoenix Credits, plus gold crafting materials and gold gear item. Like the Daily Missions (Hard), players can also do it subsequently for 30 Phoenix Credits each round.
Phoenix Credits that you pick up from these missions can be shared between characters, and you can take them on with individual characters, in case you have more than one to choose from. By having more at the ready, you can earn more Phoenix Credits over the course of a day, so stock up!
Method 3: Defeating Dark Zone Named Enemies
Finally, there is a slight chance for Phoenix Credits to drop from named bosses both inside and outside of the Dark Zone. You can bring down named enemies to see if there are Phoenix Credits dropped. Previously those eliminate enemies had been dropping around 15 credits, while now that number has dropped to between 1-3. This is a somewhat less reliable way to earn Phoenix Credits. You can choose to complete Challenging missions or try your luck in the Dark Zone by yourself.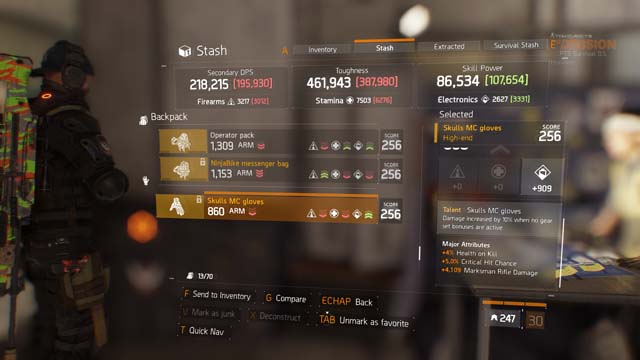 Where To Spend The Division 2 Phoenix Credits?
Once you've made yourself a fair bit of cash from completing your daily missions and other assorted quests, it's time to head back to the Base of Operations and spend all those pretty and shiny Phoenix Credits on High-End gear.
Head back to the Base of Operations and make your way insider where you can find the Special Gear Vendor who is selling the High-End weapons and gear. Interact with the Special Gear Vendor and buy any High-End and Superior gear you want with Phoenix Credits.