Fortnite V 8.11 Patch Notes Add New Flint-Knock Pistols And How To Avoid Fall Damage When Using It
The Fortnite Updates V8.11
is live now on all Fortnite platforms,which brings yet another new weapon to Battle Royale:
The Flint-Knock Pistol
! The Flint-Knock pistol is the older brother to the previously vaulted Revolver and has a etchings on the side, mimicking a pirate's pistol. On March 20 th, Epic Games posted a video showing off the Flint-Knock pistol on their official Twitter, giving players a first peek at what this new weapon looks like, as you can check below. Aside from the Flint-Knock pistol, Patch Notes V8.11 brings changes and additions to other aspects of the game. Keep on reading for more details on the update.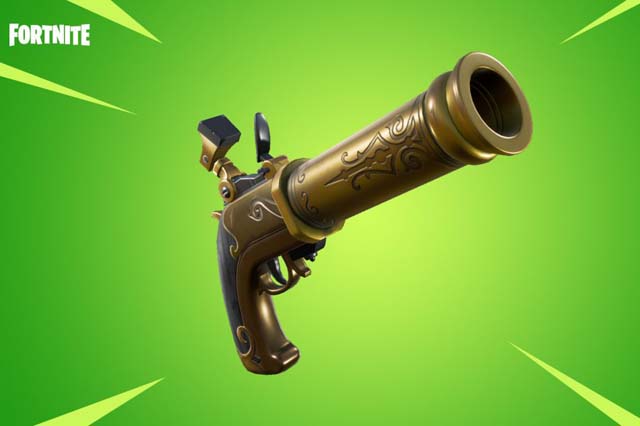 The Flint-Knock Pistol Overview
The new weapon is named the Flint-Knock Pistol, and it looks powerful. The weapon deals 86/90 damage in close range, which will blast away enemy opponents close enough to the weapon. However, Epic Games states there is "significant damage falloff" as players shoot from distance, which will cause players who fire the weapon to be thrusted back. To avoid this, players have to crouch when they fire it. Players will have to reload after every shot, and with a three second reload time, players will need to be accurate or they may find themselves back in the lobby. The Flint-Knock Pistol uses Heavy Ammo and can be found in floor loot in Common and Uncommon rarities.
Other Changes In Patch Notes V8.11
Aside from the new weapon, Patch Notes V8.11 introduces a new LTM,One Shot. This mode enables low gravity and restricts player health to just 50. Sniper Rifles and Hunting Rifles are the only weapons available, while Bandages are your only help if things go wrong.
Additionally, patch v8.11 brings back a fan-favorite item: Impulse grenades. Even better, the grenades are now more effective against vehicles, which were barely in the game when these were vaulted back in season 6.
As part of the patch v8.11, The Baller is now nerfed in the game. Besides, some other weapons's stats changes and usual gameplay bug fixes. You can check the full list of patch v8.11 in the
video below.
At the moment, Epic Games has updated the Item Shop in Fortnite Battle Royale for March 20-21. You can unlock those items with
Cheap Fortnite Top Up V-Bucks
from
5mmo.com
. With a coupon code "
5MMO
", you can enjoy 3% off. Here is a full list of both Featured Items and Daily Items available for purchase from the Fortnite Item Shop for March 20-21, including their rarities and prices.
Featured Items
Rex (Legendary Outfit) – 2,000 V-Bucks
Tricera Ops (Legendary Outfit) – 2,000 V-Bucks
Pterodactyl (Epic Glider) – 1,200 V-Bucks
Sanctum (Epic Outfit) – 1,500 V-Bucks
Bitemark (Epic Pickaxe) – 1,200 V-Bucks
Moonrise (Epic Pickaxe) – 1,200 V-Bucks
Disruptor (Rare Glider) – 800 V-Bucks
Axiom (Rare Outfit) – 1,200 V-Bucks
Psion (Rare Outfit) – 1,200 V-Bucks
Psionic Edge (Rare Pickaxe) – 800 V-Bucks
Daily Items
Cheer Up (Epic Emote) – 800 V-Bucks
Death Valley (Epic Pickaxe) – 1,500 V-Bucks
Drum Major (Rare Emote) – 500 V-Bucks
Waypoint (Rare Outfit) – 1,200 V-Bucks
Dark Glyph (Uncommon Glider) – 500 V-Bucks
Rivet (Uncommon Wrap) – 300 V-Bucks