Fortnite Wildlife Ride Guide: How to Find and Ride Animals in Fortnite Chapter 3 Season 3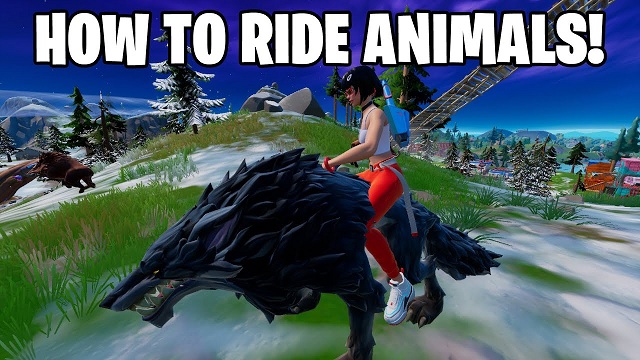 There are a variety of changes in Fortnite Chapter 3 Season 3 ViBin'. One of these features appeals players' attention is the ability to ride different creatures in the world of Fortnite. If you are curious about how to find and ride animals in the wild of Fortnite, you can read this article to know the details of this unique feature in the game. Players can buy
Cheap Fortnite V-BUCKS
to equip essential shield potions for characters in order to keep healthy in the process of matches.

What are rideable animals in Fortnite Season 3?
Wildlife has been an integral aspect of Fortnite and it has diversified the gameplay by adding unknown variables to the game. Some of the recently included animals are wolves, boars, raptors, and more, but they were usually very aggressive toward players. While in the latest season 3, players have the ability to ride these animals after taming them. There are two rideable animals in the wild, players can ride wolves and boars. These animals can be used for faster rotations on the map and even deal charge damage to enemies in their path.
How to Ride Animals in Fortnite Season 3
To ride a Wolf or a Boar, players will simply have to jump on them by pressing Space (keyboard) or X/A (controllers). While they cannot compete with the speed of Ballers or other Vehicles, you will be able to shoot and throw grenades after mounting on Wolves or Boars. These animals are vulnerable to damage and can be easily taken down by opponents. We recommend players use them as a rotational tool to quickly shift from one location to another.
During the Zero Week quests batch of Chapter 3 Season 3, one of the challenges asks you to jump on a Wolf or Boar's back in Fortnite. This serves as an introduction to a cool new feature where you can tame and ride wildlife to your heart's content.
In order to mount and ride a wolf or boar in Fortnite, all you have to do is jump on their back. Yes, it's as simple as the objective implies. Keep in mind that it's likely you're going to get hit by the animal as you try to do it, but once you've successfully mounted them, the animal remains tamed as long as they stay alive.
Now, however, if a player is wanting to use them for their own purposes, you'll be able to mount and ride these creatures. All you'll need to do to make this happen is jump on the creature's back. That's all there is to it! You could have a boar or wolf chasing you, and if you take the initiative and jump onto their back, you'll be able to ride them around the world.
You'll even be able to jump with these creatures, as well as charge towards enemies, causing damage if you happen to hit them. While you are riding any of the creatures, you'll have full access to your arsenal, so you'll be able to take down foes in a multitude of different ways. You'll even be able to use special tactics like a dismount jump while you're jumping with your creature to get an extra boost in your jump, so you'll be able to make it to higher spots, or use it as a good way to get the jump on an opponent that is trying to take you down.
Players have access to ride on the wild animals in the world of Fortnite, and find more good ways to complete quests or defeat enemies. You can
Buy Fortnite V-BUCKS
to unlock more good skins for your character, which makes you attractive in the matches of Fortnite.