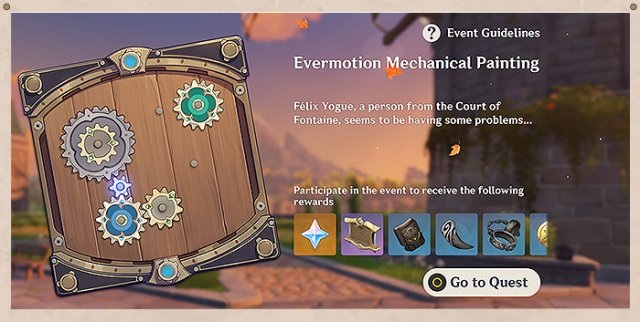 Evermotion Mechanical Painting is the last event of Genshin Impact 2.8 version. And many players are willing to complete it to obtain good rewards in turn. You can know all the information about this event in this article, and learn the guidance about how to complete it easily in Genshin Impact. Players can buy
Cheap Genshin Impact Genesis Crystals
to get good weapons or items to enhance their characters' capacities in battle.
The Release Time of Evermotion Mechanical Painting Event
Evermotion Mechanical Painting Event starts on 12th August 2022 and can be played till 22nd August 2022. With multiple rewards on the cards, this is one event that you need to watch out for in Genshin.
Put in short, the Evermotion Mechanical Painting Event in Genshin Impact involves a set of puzzles. Your task is to restore the paintings while arranging the gear components to their designated positions. While some puzzles might be easy, they are not meant to be taken lightly.
The Requirements of Unlocking this Event
To participate in the event, Travelers must meet the following requirements, luckily the requirements are quite low, so most players can take part in the event.
Adventure Rank 16 or above
Complete the Archon Quest: Prologue: Act III – Song of the Dragon and Freedom
How to Complete the Evermotion Mechanical Painting Event
First, you need to find Felix Yogue, a tinkerer from the Court of Fontaine. You can find him in Mondstadt, close to the Knights of Favonius headquarters. While you speak with him, he will ask you to restore his painting parts. The said parts belong to the Evermotion Mechanical Painting.
While you play the puzzles from the event, you need to place the gears where they are meant to be placed. Each gear has to be moving after you place them to complete the puzzle.
The Mechanical Painting has six open pegs, as well as six kinds of gear for you to slot in: two small gears, three medium gears, and a large gear. The goal here is to correctly slot each gear into its proper spot so they're all linked up and able to spin. Besides inserting a gear, you can also choose whether to put it on the upper level or the lower level of a peg if you need it to go under or over another gear.
Additionally, some puzzles also come in gears that need to be placed at different levels. You will have to watch out for that while you solve those puzzles.
The Rewards of Completing the Evermotion Mechanical Painting Event
Players can get the following rewards after completing the Evermotion Mechanical Painting event, and they are:
Primogems
Furnishing
Hero's Wit
Mora
If you are interested in completing the last event of Genshin Impact 2.8 version, you can follow the guidance and get the rewards easily. In addition, the next version of Genshin Impact is coming later. You can
Buy Genshin Impact Genesis Crystals
to prepare for the new characters or weapons in the coming update of Genshin Impact.