Genshin Impact features a fantasy-based open world environment and action based battle system, using elemental magic, character switching and uses gacha game monetization for players to obtain rare characters, weapons, and other resource. It is full of adventures everywhere. To enhance your adventures, you'll need to level up your characters and ascend your characters to ensure they're doing as much damage as possible. Sounds confusing? If you have no idea how to level up your characters. It does not matter! This is the reason why we prepare this guide for you to refer to. Do not miss it!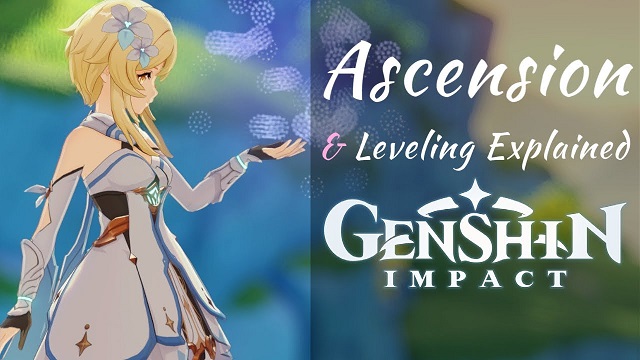 Collect character EXP materials
Different from most open-world RPGs, Genshin Impact's character leveling system operates in a different way. While you can gain character experience through defeating enemies, completing quests, You will gain more character experience using these Character EXP Material: Wanderer's Advice, Adventurer's Experience, Hero's Wit. The Wanderer's Advice and Adventurer's Experience can be obtained through Adventure and Expedition Rewards, while the Hero's Wit is acquired through Random Events. The first two are very easy to obtain and you'll naturally acquire a bounty of them as you explore the world around you. You'll also need varying amounts of Mora, depending on how many levels you wish to gain.

How to level up characters in Genshin Impact
Once you have your materials, you'll need to head on over to the Start menu and click the Characters option so as to level up your Genshin Impact characters. From there, you'll be able to see all the characters you've collected as well as gain access to their specific abilities/stats. Once you've found the specific unit you wish to level up, click on the Details button to bring up the Level Up menu.
If you've followed the steps above, you should be able to begin using the Wander's Advice, Adventurer's Experience, and Hero's Wit parchments to level up your character. It's important to note that each level will increase your character's Max HP, ATK, and DEF so make sure you do this before taking down any of the game's tougher foes.

How to Ascend characters in Genshin Impact
while you play the game, you'll be seeing this name as you first increase your character's Lv. to 20. Basically in this game your characters will be capped every certain amount of levels until they ascend.
As you hit your max level (20 is the first one) the option to ascend will appear. In order to do so you need special items and Mora to do so. These items are normally obtained through completing quests or dungeons, but you can also find several of them in the souvenir shop in cities and you need to use Elemental Sigils (depending on the region ) to buy them. You cannot purchase any of the items with Mora so you'll need to explore and get these Sigils.
You'll want to ascend, not only because it increases your max level, but it gives you a huge boost in your basic stats without even leveling up.
From the above, we know that you can also rely on your Mora or wish to level up if you want to level fast or save time and effort. Mora is a kind of important currencies in the game. You're going to be spending a ton of Mora leveling up your characters, ascending your weapons, upgrading your talents, and so on. There are various methods you can use to get Mora in Genshin Impact. The quickest and easiest way to get Mora is to buy from a reliable online game store. If you want to look for the best place to buy Mora , Please remember to 5mmo.com. We are a professional online game store committed to providing game services, for instance, game coins, game consulting and etc. We focus on customer satisfaction and top-quality services. Thus, we will offer the lowest price, fast delivery, and safe transaction to all of you! Meanwhile 24/7 live chat and global payments are available! If you have any doubt, please feel free to contact us!
Genshin Impact Account
for Hot Sale at
5mmo.com
! Welcome to join us!