Genshin Impact World Boss Guide: How to Defeat the Dendro Hypostasis Boss in Genshin Impact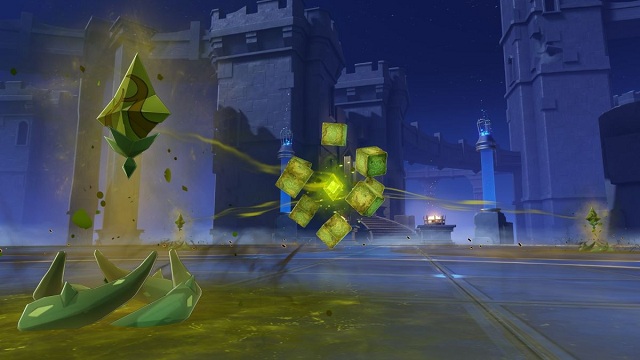 Genshin Impact 3.2 version has updated recently, it brings new contents to players in the game. Besides the new characters and storylines, a new world boss called the Dendro Hypostasis added in the game. Many players are eager to beat this world boss and earn good reward drops. While, if you have not got right guidance, you may fail in completing this world boss quest. You can read this article to learn from the guidance about how to defeat the Dedro Hypostasis Boss in Genshin Impact 3.2. Players can use
Genshin Impact Crystals
to unlock more good characters and build your best party to complete more competitive quests in new region.
Where to Find the Dedro Hypostasis Boss in Genshin Impact
The Dendro Hypostasis is a Field Boss for Genshin Impact 3.2 located in the Sumeru Desert region. It is the seventh elemental variant of the cube family of Hypostasis harboring the power of Dendro.
The Dendro Hypostasis is located in the Great Red Sand desert region, the western part of Sumeru. Once you've unlocked this area, you will see a location marker south of Dar al-Shifa. Although it may look as if the Dendro Hypostasis location is above ground, it's actually inside a cave. Don't try to reach it through the Dar al-Shifa tunnels either, as the caves aren't connected.
To find the Dendro Hypostasis, start from the nearby Teleport Waypoint, west of the marker. Walk south, and then look down: there's a path below the cliffs, leading into a tunnel on your left. If you glide down, you'll see the cave opening. Follow the tunnel until you see the Dendro Hypostasis.
How to Defeat the Dedro Hypostasis Boss in Genshin Impact
Like every other Hypostasis in Genshin Impact, this boss requires you to attack it when its core is exposed. Any non-Dendro attack will suffice in this instance. This phase isn't hard at all and should be familiar to most Genshin Impact players who've played the game long enough.
One of the most dangerous attacks sees the Dendro Hypostasis turning into a ball and jumping into the air and slamming down three times. You can see where it will land with a marker on the floor, but make sure you save some stamina for dodging, especially on the third hit which is both more damaging and has a larger AOE.
The easiest way to beat Dendro Hypostasis is by attacking its core. Therefore, take advantage of the moments when the core is fully exposed. Once the core is hidden, try to dodge his attacks in order to survive against him. Once the boss is low on health, he will release Restorative Piths to restore health. At this moment, use Dendro and then Electro to destroy all three Restorative Piths.
We recommend forming a party composition of Nahida, Tighnari, Collei, and Dendro Traveler to fight against Dendro Hypostasis.
Rewards of Defeating the Dedro Hypostasis Boss
After defeating the world boss, players have chances to get drop materials like Quelled Creeper Gladiator's Finale, Wanderer's Troupe artifacts, Mora, Experience, and Nagadus Emerald jewel pieces.
If you want to level up your characters quickly, it is a good choice for you complete more boss quests. The drop materials from bosses will improve your characters well in Genshin Impact. If you are lack of good gear or items for characters, you can
Buy Genshin Impact Genesis Crystals
to select the suitable ones to enhance their abilities, which helps you complete more quests in the game.