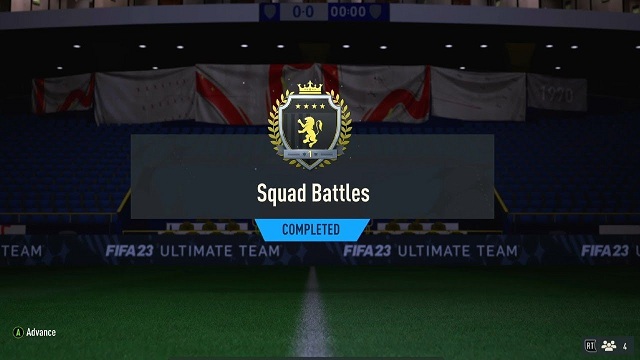 When players are playing FIFA 23 Ultimate Team mode, you can not ignore the importance feature called Squad Battle. It is a good mode for players gather more and more coins and rewards. If you are wiling to earn good rewards in Squad Battle, you had better learn some necessary tips in advance. We are going to instruct you how to get good rewards from Squad Battle Mode in FIFA 23. Players can get
Cheap FUT 23 Coins
to purchase suitable and powerful players for your Ultimate Team in FIFA 23.
Squad Battles is a PvE game mode in FIFA 23 where gamers play against AI-controlled opponents and procedurally generated squads to earn weekly points. These points are then tallied at the end of each week and rewards are allotted accordingly.
Squad Battles can be a fierce and enjoyable battle against the game's AI — especially when you compete against the hardest difficulties. Achieving the mode's top rewards means investing a lot of time but, for some players, its worthwhile if you prefer offline play.
How to Get Good Rewards in FIFA 23 Squad Battle Mode
You need select the right Squad Battles objectives to complete
There are several types of objectives to complete in FIFA 23, but the most critical ones for Squad Battles are the time-limited ones found in the main 'Objectives' menu and a range of evergreen ones tucked away in 'Milestones'.
New objectives are added multiple times per week, so it is always worth checking out the objectives section before you begin playing Squad Battles. There are usually gameplay tasks to complete in the weekly Bronze, Silver and Gold objective tiers, which contribute to your Season Progress and provide access to battle pass-style rewards. There may also be players, packs, picks or swap tokens to unlock for completing other objectives.
You need score high points in Squad Battles
FIFA 23 employs a specific algorithm to calculate the points that players earn per match. Several factors affect this score, such as the number of goals scored, goals conceded, shots taken, shots conceded, possession percentage, and fouls committed, along with other in-game stats.
In an ideal scenario, players must secure a 5-0 win where they have a minimum of ten shots on target, maintain 60 percent possession, and commit almost no fouls in the entirety of the game. These stipulations become harder to fulfill as the difficulty of the AI gets higher, but also come with the reward of higher weekly points.
You need find the right difficulty based on your skill level
We suggest getting the right difficulty for your own skill level. While it's tempting to play at the highest difficulty setting of Legendary, as the potential points for each game is higher, if you lose these games 5-0 because the AI is too difficult, you'll earn less than if you play on Semi-Pro and win 5-0.
As such, you want to get the difficulty just right. Find a balance where you can comfortably win most games without it being too low to the point you're missing out on additional potential points from higher-difficulty settings.
If you are eager to earn more coins and packs in FIFA 23, it is a nice choice of playing Squad Battles. And we have listed several useful tips for you in order to help you win more matches against difficult AI. And you can also
Buy FIFA 23 Coins
to get your desired items or players from the game-shop. Good players are suitable in the process of building the Ultimate Team mode in FIFA 23.