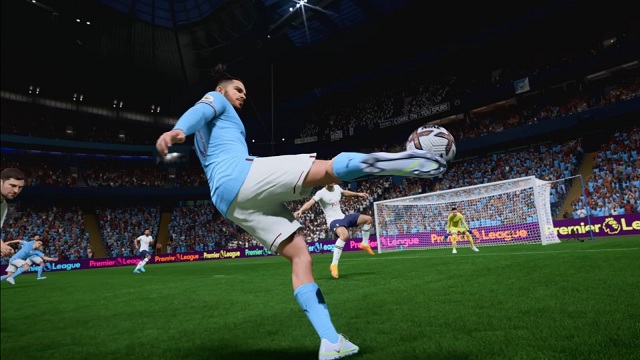 When players are playing matches in FIFA 23, they expect to win more matches. So, they are looking for good ways to shoot more goals in the match. Do you know the power shot in FIFA 23? It is an efficient way for players to score goals on the court. You can read this article and know more information. Players can use
Cheap FUT 23 Coins
to add famous players to your ultimate team.
How to Perform a Power Shot in FIFA 23
In order to perform a power shot in FIFA 23, players will need to hold both the left and right shoulder buttons while pressing the shoot button. When playing with a PlayStation controller and default controls, this means holding L1 and R1 and then using Circle to shoot, while those on Xbox will instead need to hold LB and RB and then press and hold the B button to power up their shot as usual.
If done correctly, the camera will begin to zoom in a little on the player who's in possession, at which point players will need to use the right analog stick to aim their shot. Unlike with regular shots, they'll receive zero assistance, and so will need to aim with precision if they want to get their shot on target. This is actually pretty simple, though may take a bit of practice to fully master.
When to Use a Power Shot in FIFA 23
Timing your Power Shot depends largely on two key factors:
The amount of space in front of your player
The time it will take a defender to close the gap and block your shot
When you initiate a Power Shot, by default your camera will zoom in on your player as they plant their foot and line up their shot.
If you have space in front of you, then you should consider using a Power Shot, especially if you are around the edge of the box.
Ideally, you should initiate the shot while standing still or moving very slowly forward as the wind-up and your momentum will carry you quite a bit further than you might expect.
When a defender is rushing toward you, you will likely have your Power Shot blocked due to the delay between your inputs and the shot.
You can fake your shot and avoid the defender by pressing "Pass" after you input the commands for a Power Shot.
Once you understand the aim sensitivity, a great time to try a Power Shot is on a breakaway where you are well clear of the last defender. Regardless of your angle, a well-aimed Power Shot usually leaves the goalkeeper helpless at closer range.
Tips of Performing a Power Shot in FIFA 23
Make sure your player has space and no defenders are near the ball, otherwise there's a good chance a defender can steal the ball in the long build-up to the shot.
Take your time. Make sure your player is balanced and has taken a few touches before attempting a shot.
Use the right players. Players with the best shot power will be the most effective.
Aim for the corners, and try to mainly use Power Shots from outside the box.
Don't overdo it! As fun as it is to attempt these shots, it can become easy for the opposition to predict a Power Shot
When attempting a power shot in-game, the camera will automatically slightly zoom in for dramatic effect, though this is not to everyone's fancy, so you can easily turn this off in Camera Settings.
If you are willing to try Power Shot in FIFA 23, you can experiment the guidance in the matches. Mastering this good skill will help you score more goals in a single goal. And you can
Buy FIFA 23 Coins
to get good and powerful player cards in the transfer market.